You can fly into any airport you like, as long as it's JFK.

-Henry Ford (not really)
As naturalized citizens of New York, we're in an especially good position to advise you on ground transportation. Which is lucky, because most of our other destinations have fairly straightforward, fairly affordable ground transportation options. (E.G. Seattle – light rail into town, then Zipcar. Done.) New York, on the other hand, is a bit more of a racket. Or was, until the Air Train. (It's gotten less complicated still since this was originally written, thanks to Uber.)
We'll skip to the good stuff first, then tell you the back story if you care to read on.
1. Fly into JFK.
Just do it. If it costs less than $100 extra you'll save it in money and hassle once you're on the ground. Related, we recommend flying Jet Blue or Virgin America for practically all domestic flights if they serve your cities. For New York, Jet Blue is marginally better because it arrives and departs from gorgeous Terminal 5 – Virgin America serves the far more drab, spartan Terminal 4 – but if you can get either for less than $100 more than the next cheapest option, you'll thank yourself.
Why JFK? Simple – the AirTrain, and the LIRR.
2. Take the Airtrain to Jamaica. Board the Airtrain after baggage claim by following the signs or asking directions. Take a Jamaica bound air train, not a Howard Beach bound one. You don't have to pay before you get on. Buy a metrocard when you exit at Jamaica and swipe it in the turnstile to exit. Ask an MTA employee if you need help.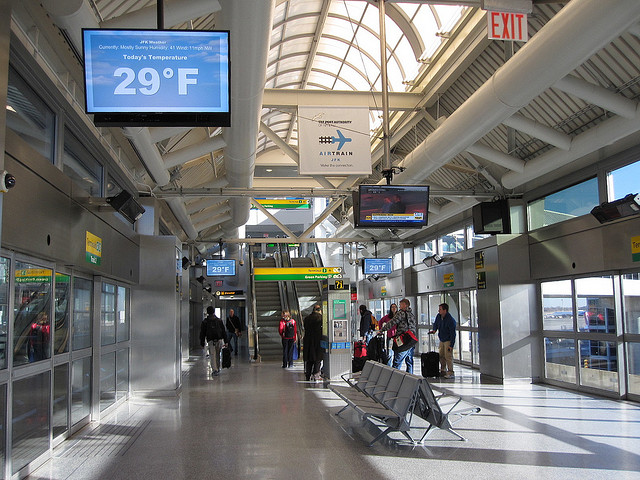 I just googled the flat rate for cabs from JFK to Manhattan and it's $52. Add in tip and you're looking at $60-70. Not bank-breaking, but not exactly budget either. Especially when you consider a meal for two, including a glass of wine, is around that price in many of New York's restaurants. This blog is about traveling in style, not wasting your paycheck. Take the airtrain unless you're elderly and/or have luggage too heavy to carry up a small flight of stairs.
Here's the other secret about cabs – they're not any faster. In fact, when you factor in an average 45-minute wait time in the line (that's an unscientific average but Chih-Yu and I have done it enough times to ballpark it), you're practically doubling your travel time.
Follow the signs or ask directions. From some terminals you have to go to the far side of baggage claim and find an elevator. From Terminal 5 there's a well-marked path.
3. Take the LIRR.Take it to Penn Station if you're staying in Manhattan and to Flatbush Ave if you're staying in Brooklyn. Buy a ticket at a kiosk first, and pay attention to whether the time of day is peak or off peak. Originating at Jamaica, arriving at either Penn Station or Flasbush Ave.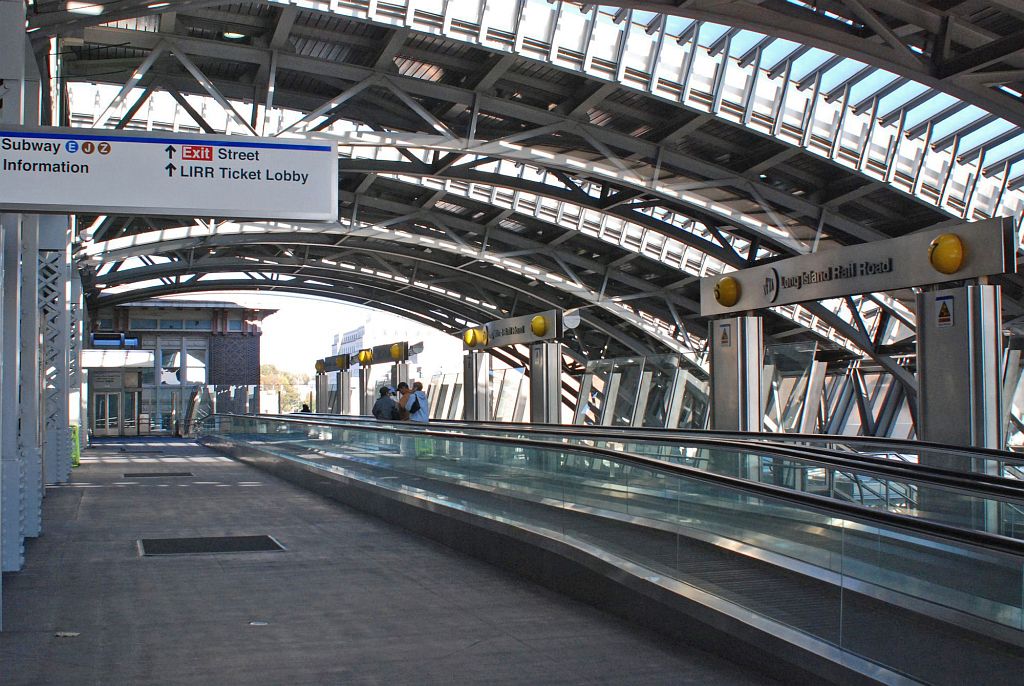 From Jamaica, at any hour save the dead of night (an unlikely arrival time unless you're traveling internationally, in which case this wouldn't be a getaway so much as a voyage) there are LIRR trains going to Penn Station nearly every ten minutes, and trains going to Flatbush Ave (across the street from Barclay's center, where the Brooklyn Nets play) at least every half-hour. It's $6 and change for peak fare, $5 and change for off-peak, and the ride is 15 minutes. From either end, you can use Uber.
Finally, a bit of backstory. The first time I flew into New York, in the spring of 2001, I flew into LaGuardia. Thinking I would take a cab, I walked toward the exit with my bag, where a gentleman wearing a uniform offered me a cab ride. "Don't worry, you won't have to wait in line," he offered.
No, it's not what you think. This is New York, not Mexico City.
But I did end up paying as much as I would have for a yellow cab to cram in the back of a "church van" with 7 or 8 other travelers, and wait until they all had been dropped off before I could arrive at my destination (I was staying in the West Village).
My first and largest mistake was flying into LaGuardia, which is served by no public transportation save the M-60 bus. Yes, if you're a local and live in astoria or Harlem, the M-60 is the way to go, but you're presumably a couple looking for a romantic getaway. The New York City Bus does not a romantic getaway make. If you absolutely must fly into LaGuardia and can't arrange for a friend to pick you up, wait in the line for a yellow cab. Don't take anyone's advice in the terminal – walk out to the curb and follow the line.