A burning question many travelers unfamiliar with the Bay Area ask themselves is "should I fly into SFO or Oakland?"
In the past, Oakland was hailed as a cheap and uncrowded alternative to San Francisco. The conventional wisdom was "fly into Oakland to save money." Is it still true?
The simple answer is: sometimes.
A quick Jet Blue search for a hypothetical trip two weeks from today shows Oakland is indeed the cheapest option for one particular day, with one seat left at the low price, and every other seat extremely expensive. San Fran, by comparison, has a slightly higher lowest fare, but more low-midrange fares, likely because it simply handles more daily flights. We recommend checking both airports to see which is cheapest, but unless the price difference is more than $100, we recommend flying into the airport closest to where you're staying. For the East Bay, Oakland will be more convenient. For San Fran proper, it's SFO all-the-way.
In both cases we recommend renting a car directly from the rental agency, and arranging to pick it up at the destination airport. Public transportation in the Bay Area is not robust enough to get you to the city center without an unromantic hassle. Rentals directly from the agency may seem slightly more expensive than renting as part of a cross promotion from your airline, but it will pay off. (And it's not always more expensive.) Rent directly from Hertz, Avis, Enterprise, or another agency, and they have flexibility to change things on-the-fly depending on availability, upgrade you, etc. Rent through the airline and you're taking your chances. If somebody loses your reservation, who's directly responsible for helping you? We wasted two hours at a rental counter after trying to rent from the airline.
Here's why SFO is the better option 9 times-out-of-10, even if it's slightly more expensive: you'll go from baggage claim to the rental counter in a manner befitting a romantic getaway, versus a remand to custody.
SFO still boasts an AirTrain connecting its terminals to the parking structures and rental agencies.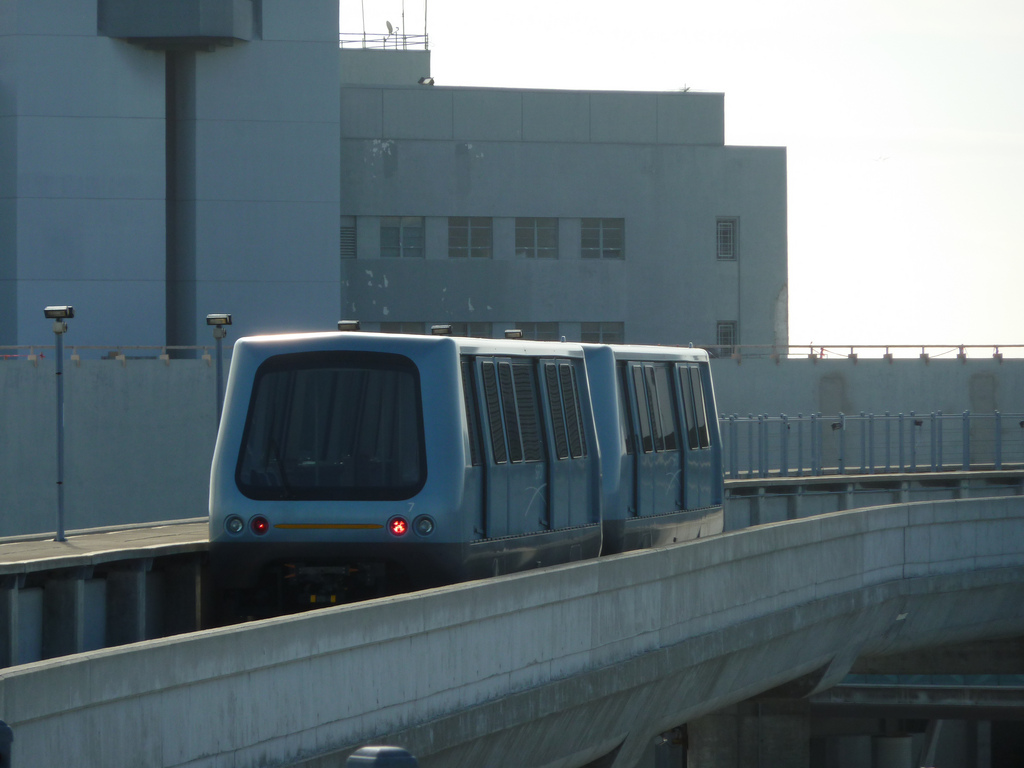 Photo by Richard Eriksson
At OAK, you'll be riding a "prison bus" to a chainlink-fenced parking lot.
Among other things, the train is faster and more reliable. Still, if you're staying in the East Bay and/or saving a bunch of money, you can ride that bus with a smirk, imagining the meal or wine flight you're going to be spending your savings on.
One more handy tip – purchase a cheap mounting device for your smart phone, and use Google Maps as your GPS.
It's more user-friendly and up-to-date than most onboard GPS devices. From SFO just a couple of turns an you're on the on-ramp to the freeway, ten minutes from downtown in good traffic.