What's the most underserved information query for New York City?
Something interesting or sexy like subterranean tours, Cumbia bars in Brooklyn, the best tattoo parlors, or the Mole People?
Fraid not – it's hotels. Specific hotels, and by quite a long shot. As New Yorkers Chih-Yu and I don't make a practice of staying in hotels, but we've been inside quite a few over the years, hosting parents and friends, and most importantly we know the five boroughs in-and-out, so we can spot a ripoff and clue you into deals you may not have thought of.
The ethos of this site is smart getaways, which implies speed, efficiency, and convenience. You're living like a Boss, not a Sap, and that means paying 2-300 dollars-a-night for your room at maximum, and laughing at everybody paying 3-4 times as much for barely more luxury than you're enjoying. Luckily there are options for smart travelers, and though 99.9% of good hotels are still in Manhattan, there's even a decent option for the varsity travelers smart enough to avoid Manhattan altogether.
Below, our rundown of the most searched hotels in New York City, grouped according to our recommendation, and in order of expense-
Hotels We Recommend, Manhattan
The Pod Hotel ($) – (we're borrowing Yelp's "dollar sign" indicator of price)
Pod 51 at 230 E 51st St
(between 3rd Ave & 2nd Ave)
Pod 39 at 145 E 39th St
(between Lexington Ave & 3rd Ave)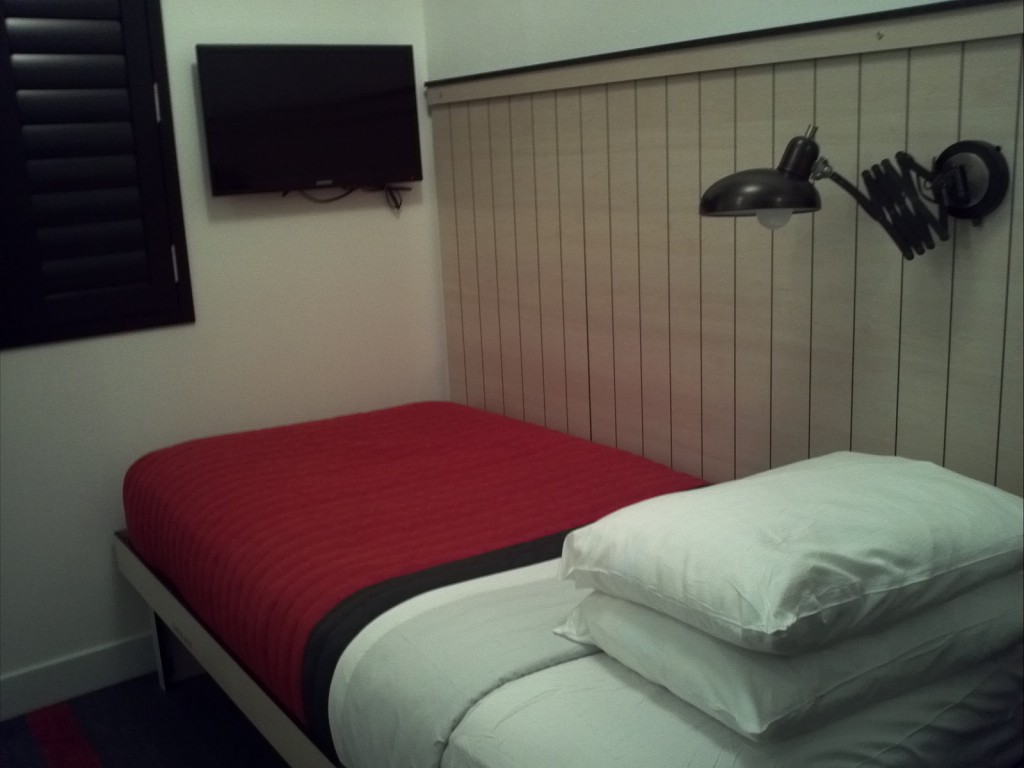 Photo by Charlene mcbride
We actually love the concept. It's classic young, urban deconstructionist, and by all appearances it's cheaper than most of the competition. New York hotels of old were high on the square footage and pricetag, low on renovations, usable space, and convenience. The Pod concept turns this on its head, asking "why pay for space you're not going to use."
Situated between the hostel (folks, you do not want to try this on a first trip, especially with a couple, unless you're 18 and own a frame pack), and the luxury hotel, The Pod offers modernity, cleanliness, dignity, and most importantly ease of use of tech gadgets, with features like iPod/phone docking stations.Bathrooms are shared in some situations, so read carefully before booking.
According to the website, rooms range from a very reasonable $165 per night for a bunk bed arrangement with its own bathroom (which I would be all over, even at my age – it sounds kind of fun) or a single room with a shared bathroom to $225 for either a double or queen room. Space is spartan by New York standards (though generous by London or Tokyo standards), but it's enough. If you're not on an expense account and want to see the city in style without being taken to the cleaners, this might be an option. Some common complaints include the "hands off" attitude of the staff (indeed, lack of 24-hour staff at the front desk leading to security concerns according to one review), and lack of privacy in the restrooms. "Not recommended for honeymooners."
Comment on the 'nabes – you're staying amid urban drabness, though you're near interesting things. The 51st street location is the heart of the banking district, and actually boasts some cool Japanese restaurants and bars, but is not the first thing that comes to mind when I think "romantic." Ditto the 39th – northern border of Murray Hill, basically a no-man's-land between Grand Central and the more interesting 'nabes of Gramercy Park and Flatiron.
Bottom line – there are better hotels, but you need to breach the 4-500 dollar range to come close to the cleanliness and modernity of The Pod. For both its guerrilla business savvy and straight nicety of its accommodations, we have to vote "recommend".
Distrikt Hotel ($$$) in Hell's Kitchen
342 W 40th St (between 9th Ave & 8th Ave)
It's the most highly reviewed New York hotel on Yelp, and it's less than half the price of the Palace. A double room for the same dates as I searched for the above two will run you about $500 including tax, but you may be able to cut that in half if you book more than two months ahead of time. (We have no affiliation with any hotels, btw.) The location is slightly less central, though it's right where first-time visitors want to be: the theater district. Most importantly, it's clean and modern, two things in short supply in New York.
Hotels We Recommend, Outer Boroughs
Nu Hotel ($$)
85 Smith St
(between State St & Atlantic Ave)
Brooklyn, NY 11201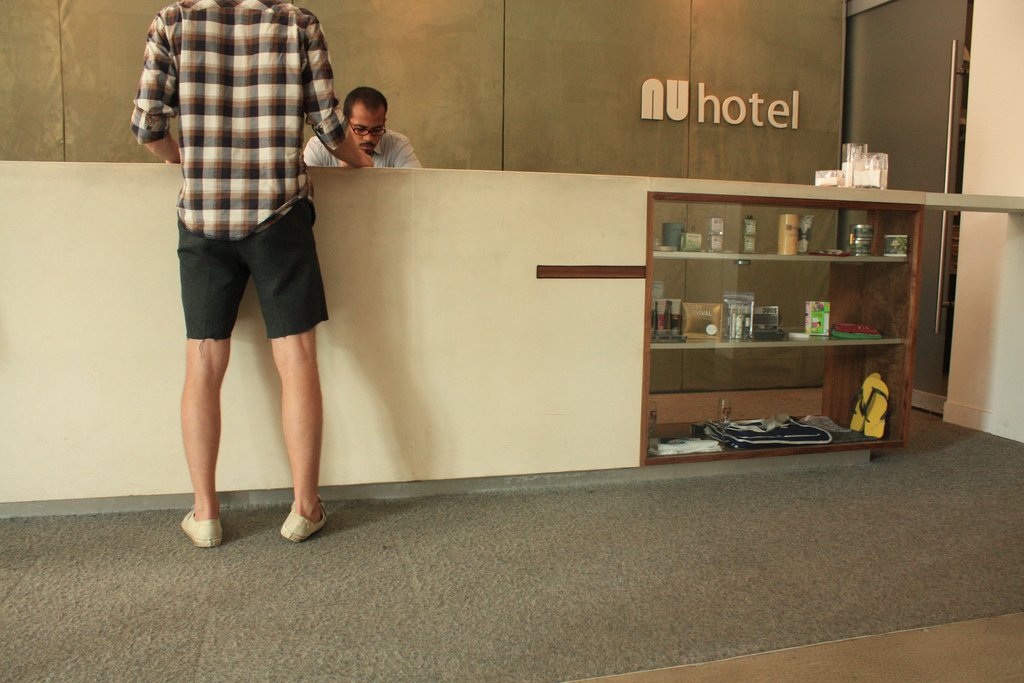 Feeling we could contribute most by looking beyond Manhattan, and sensing this place was underrated on Yelp, we did a homework assignment. We went there. Read More…
Frequently Searched Spots that Are a Waste of Money (we're not including maps for…um…obvious reasons)
The New York Palace Hotel ($$$$)

455 Madison Ave
(between 51st St & 50th St)
New York, NY 10022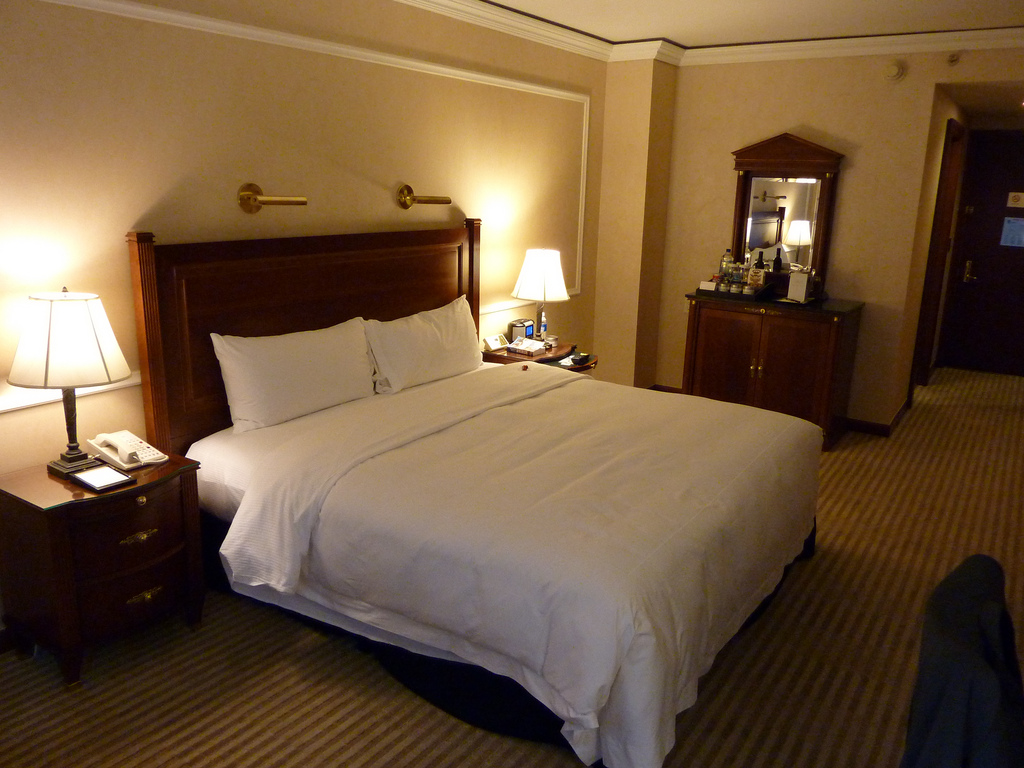 Photo by Gary Bembridge
Aaaaaaand right on cue, the Palace is exactly the type of place that left the market wide open for the proprietors of The Pod, though I doubt there will be much overlap in the demographic. (The website looks like it was put together in 1994.) The Palace is archetypal Old New York, brash, um…palatial, and pricey. On the low end, a room for two will run you $997 for an average weeknight. Having stood inside similar rooms (at the Lucerne on the upper west side, where comparable rooms are a third the price), I can tell you the difference between such spots and hotels like The Pod are not worth the markup.
Four Seasons Hotel New York  ($$$$)
57 E 57th St
(between Madison Ave & Park Ave)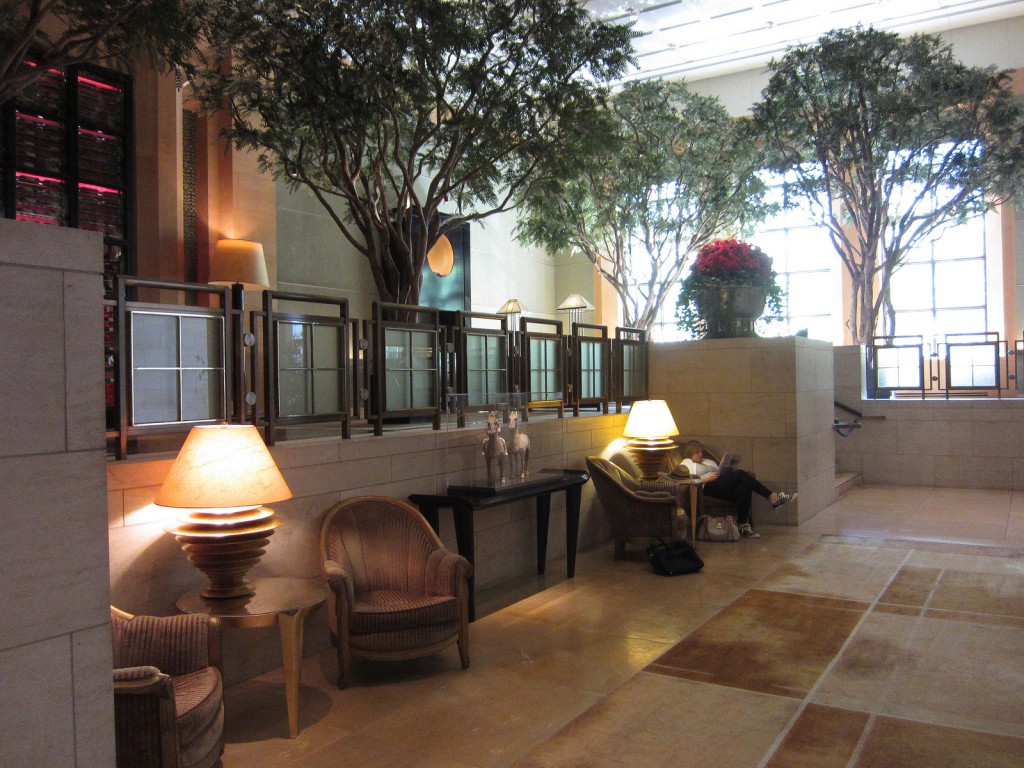 Photo by Alan Light
Rooms from – yawn – $997 a night. Most astonishing is the room decor for the "budget" options is actually more drab than that of the Distrikt. Another expense-account-buster, and if you've got an expense account, don't mess around, go straight to the Mandarin Oriental.
Frequently Searched Hotels We Don't Recommend
The Lexington New York City
511 Lexington Ave
(between 47th St & 48th St)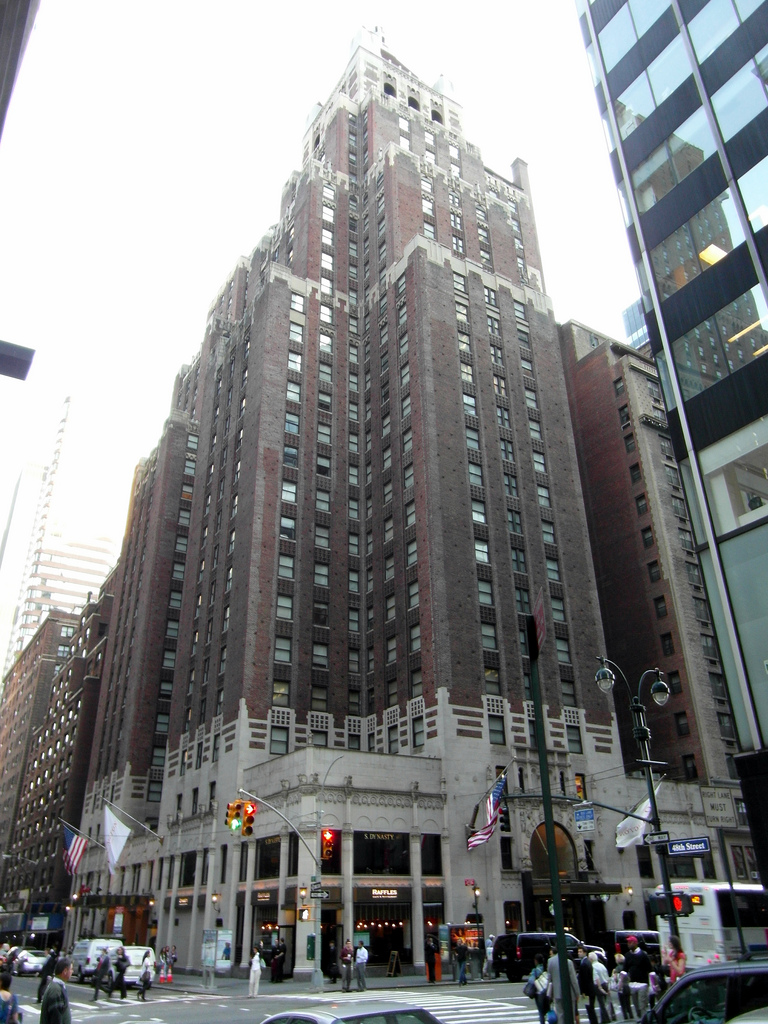 We were on the fence about this one. It's typical of Old School New York hotels in that it dates from the early 20th century and has hundreds of rooms in various states of renovation. (Above, obviously, is a renovated one.)
What tips the scales for us is the unremarkable price-competitiveness and frequent reports of disrepair and shoddy service. To us this smacks of the classic New York Hotel Seller's Market syndrome – merchants get lazy because there's constant demand for their product and little competition. Luckily even in this environment there are "star players" who go above and beyond – offering more quality than they need to at a lower price than they could. The Lexington, whose rates start at $398, average in the $500s, and go well above that, is not bad, it's just not exceptional.
Hotel Wellington
871 7th Ave
(between 55th St & 56th St)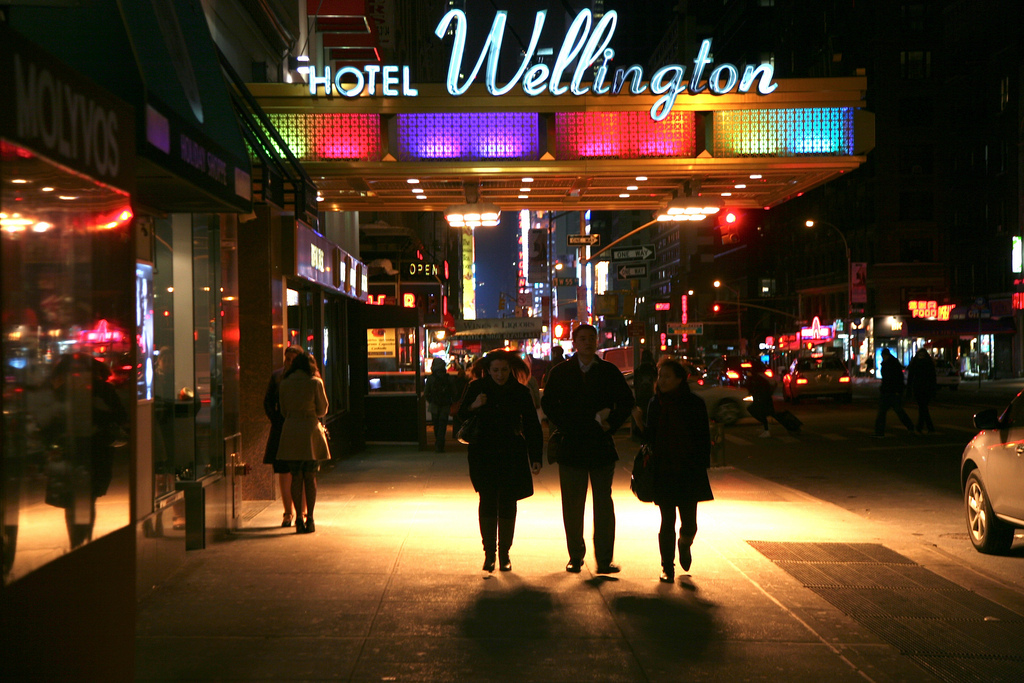 Photo by Vincent Desjardins
The Wellington is another oft-searched New York Hotel, and I'm at kind of a loss to explain why. Yes, it's situated just around the corner from Carnegie Hall, and one of the most beautiful southern portions of Central Park. But the Wellington is another example of the gaping hole in the market that The Pod stepped in to fill. Sure, it's cheaper than spots like the Four Seasons or the Palace, but reviews (and photos) highlight the glaring issues  – disrepair, drabness, and apparent rudeness of the staff. These are all Old New York staples. At $309-a-night it's still more expensive than The Pod.
 Hotels We're On the Fence About
Hotel Gansevoort ($$$) – West Village
18 9th Ave
(between Little W 12th St & 13th St)
New York, NY 10014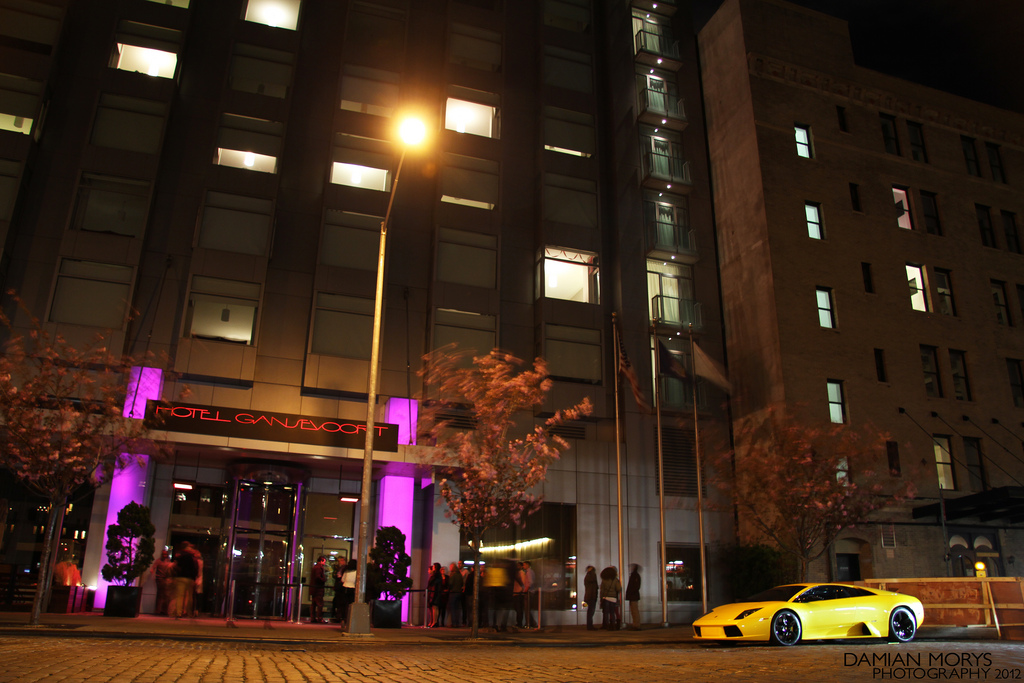 We actually have to file the Gansevoort in the "need more info" category, because it didn't immediately fall into one of the predictable patterns or mediocrity, and shows subtle signs of being awesome. In the meatpacking district, which, like-it-or-not, has become a tourist zoo, the Gansevoort combines edgy stylings (like Andy Warhol murals) with luxury, and somehow manages to do it for a startlingly reasonable (for New York, for Manhattan – still astronomical by standards of most other places) rate. Rooms start at high $300s when you book at least 2 months in advance.
This shows hallmarks of a "Yelp Sleeper", a place that because of bad circumstances ends up vastly underrated on Yelp, and here's why: it doubles as a nightclub. Most of the negative reviews are from frustrated clubbers turned away at the door (because they wore flats, etc.). Reviews for the hotel were, by-and-large, positive. Bottom line – we'd have to visit in person to know for sure. Until then, we have strong suspicion this place is underrated, and if you can score a room there for a good rate and want to live luxuriously, we don't dissuade you from taking the plunge.