Chih-Yu and I have an entire blog dedicated to the premise that Manhattan's charms are wearing thin for many smart travelers. Far from being more adventurous, Brooklyn is actually a sightly-less-frenetic cousin of Manhattan. One where the pace is a little slower, the people a little hipper, the bars and restaurants a little less touristy and more on-point, etc.
Anyway, while we're well aware that the audience for the Smart Getaways for Couples blog will include folks craving the saw-it-on-TV tour of Manhattan (we don't hate – we were those people ourselves ten years ago;), we can't recommend Brooklyn roundly enough. Couples routinely retreat to spots like the Hudson Valley, Ithaca, Niagra Falls, Cape Cod, and (to a lesser degree, if they're smart) the Hamptons, but you can find that same small-townish strollability right in Cobble Hill or Brooklyn Heights, and Manhattan's museums, Broadway shows, and…remind me why else people go to Manhattan?…is just a subway ride across the river.
To that end, and because most every hotel in Manhattan with the possible exception of The Pod is hopelessly overpriced, we set out to see if there was cheap, hip, easy-to-access accommodation in Brooklyn, and what we found exceeded even our expectations. It turns out Brooklyn is an all-but-overlooked resource for hoteliers. Manhattan is where all the easy tourist dollars are – people staying in Brooklyn are more likely to be smart and price conscious (check, and, if you're reading this blog, check), which scares away most players.
Except for one.
NU Hotel
85 Smith St
(between State St & Atlantic Ave)
Brooklyn, NY 11201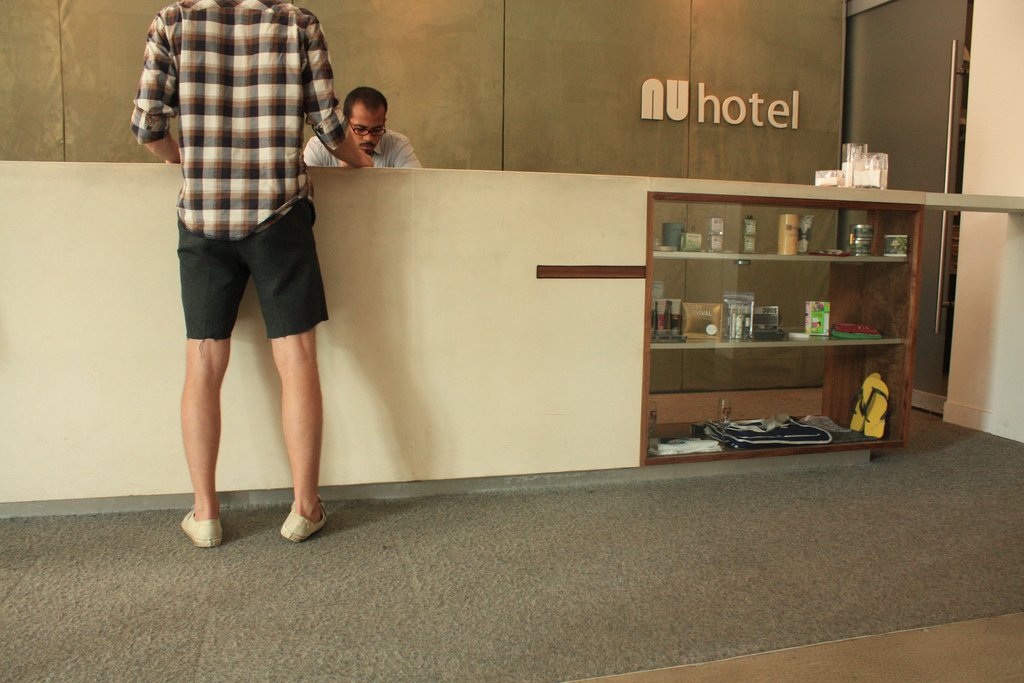 Photo by Liz Mc
We're not trying to shoot-the-moon here. Hotels in New York will always be more expensive than those in, say, Dubuke. But Chih-Yu and I suspected there must be a spot in Brooklyn like the Tomo, San Francisco's hip, budget, anime-themed Japan Town lodging house, and to our delight, there was.
The NU Hotel sits on the Corner of Smith Street and Atlantic Ave, which means it's either walking distance, or one-to-three train stops away from everything you need in Central Brooklyn, 20 minutes away from most of lower Manhattan. From JFK Airport, the AirTrain and the LIRR to Flatbush Ave, and a single stop on the G train, will get you within two blocks. (You can also take a yellow cab from the LIRR station, which shouldn't cost you more than $6 plus tax and tip.)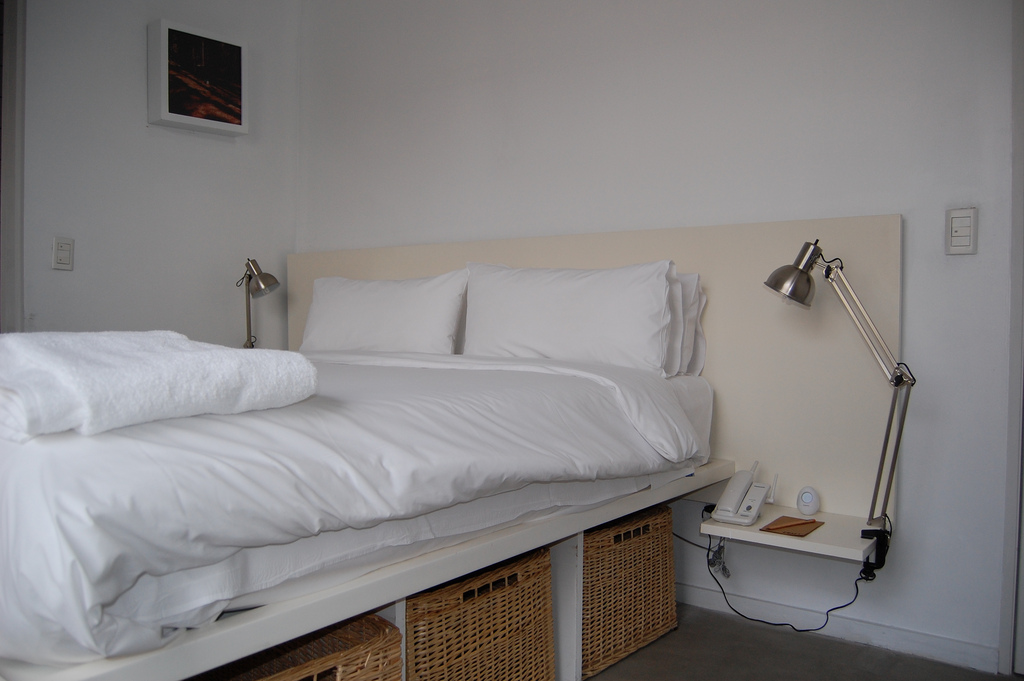 Photo by Josiah MacKenzie
The lobby, rooms, and overall ambiance are definitely New School, meaning techno music, environmentally-friendly engineered cork floors, and an overall "young" feeling. (Don't worry too much about the "young" – it's SoHo young, not Spring Break Young, and a concierge assured us most of the guests are in-laws of newlyweds and/or family of recent college grads.) Some of the Yelp reviewers were unduly harsh about the conditions, so we felt we needed to stand in the space ourselves, so we made an in-person visit. The building is less than a decade old, and everything feels well-made and well-maintained. The rooms look as if an interior designer with a sense of economy designed them – just our kind of vibe – and smoking has never been permitted in any room for the entire existence of the hotel.
To be fair, don't expect the Four Seasons. Rooms will run you in the $200 range – $150 if you book far enough in advance and/or get lucky – and there's a modernist sense of cost savings: they don't charge you for square footage or plush carpeting you don't need. So the rooms are a bit small by Middle America standards, but don't feel lacking. The acid test for any hotel is the washroom, and those at the NU were clean, new, and conveniently designed.
We also got to experience the service, another key parameter for hotels. (Bad customer service has sunk many an otherwise-decent-place.) We're happy to report that at least on the day we visited, the staff was the most exceptional parameter, friendly, informal and personal (we were joking about the rainstorm everyone had barely missed getting caught out in), but professional and helpful.
We recommend the NU highly as a smart alternative to the overpriced mediocrity of Manhattan, and a "hack" for couples who thought New York was too expensive.