True to the spirit of this site, prior to writing this post, I read a few articles, reviewed some tips from my favorite travel books, pulled up a couple of suggestions from friends who are seasoned travelers, and dusted off my memory of my international-hostel-hopping days in college. Not that I'm not an experienced traveler since then, but I must admit to getting rather lazy in my old age. No more. Inspired by the spirit of helping users of this site find the narrow overlap between maximum savings and minimum hassle, I took to the internets to test some theories.
The first scenario I wanted to test was the one likely to be familiar to new visitors to this site – a novice traveler with a weak stomach for risk and no rewards card, but some flexibility with his/her travel dates. (We're going to review rewards cards in future posts, but the principles here will still apply, as you'll soon see, especially if you're trying to make your points/miles count.) Finally, to make sure my advice is worth its salt, I tested a "control" – a two minute search for exact dates 2-3 months in the future to a specific location, to compare the fare, and am pleased to report my method not only beat the "control" by hundreds, but did so on far better airlines.
Here we go – the first principles are global, but the latter still apply even if it's too late for the first few.
1. Have At Least Two Potential Destinations Chambered
Part of the spirit of this site is to give you a working Rolodex of destinations you can draw upon depending on the season and the airfares. For this – the high-flexibility-low-risk scenario, I recommend having at least two potential destinations in mind and working with a 3-month window.
2. Go to Kayak.com
We have no affiliation with any travel site, but I tested out the usual menu of mainstream sites – and some smaller ones – before writing this article. Remembering that I once used Travelocity's "flexible dates" feature to great effect booking a ticket to Europe, I tried several sites that offer the feature (Travelocity no longer offers it because of Dept of Transportation tax disclosure laws). The best is Cheapair.com, but I'd skip it.
Flexible Dates searches are a waste of time.
Especially when Kayak essentially shows you what's "behind the curtain."
Anyway, enter in the locations of the first of your options. Voila – off to the right, you'll see a calendar displaying the lowest fares other searchers have obtained in the last 24 hours. Write down the dates of the fare that's the best compromise between ideal travel dates and savings. Repeat for destination 2.
If you want to stop right there, you can. You now have a matrix of dates and fares between two destinations. You can simply run the Kayak search for the dates and destination you select and be done with it.
As usual, we like to go a step further.
3. Go to Jetblue.com and VirginAmerica.com
If, of course, either airline serves your city. It's all over the site, but this is not Dirt Cheap Getaways, it's Smart Getaways, and the hassle you'll save by booking with one of these two carriers is worth at least $100-a-trip, in our estimation. If you've flown either and also flown a mainline carrier, you understand. If not, try it.
Anyway, both Jet Blue and Virgin America have search tools to make finding your fare even more precise. Enter the departure and return dates from Kayak, and select the most ideal (compromise of price and convenience – in particular I like to avoid "overnight" coast-to-coast flights or unnecessary stopovers) fares going each way. Tally the total fare.
For Virgin America, add $50 to the total fare – this is the checked bag fee. For Jet Blue the first checked bag is free. Between the two, choose whatever's cheapest.
If you're happy, you can quit here. If you need a metric for comparison, try this – run the search again in Kayak, and select a comparable fare (if you chose a higher fare in Jet Blue or Virgin to avoid a red-eye or layover, so the same in Kayak). Double it (for two travelers), then add $50 for luggage.
If the "legacy" carrier price $100 cheaper or less, go with Jet Blue or Virgin.
4. Be Ready to Book On The Spot
This method assumes you've got credit card in hand. If you wait even a few minutes, fares will disappear, so it's important to be able to purchase a few minutes after beginning the search. We'll cover things like fare alerts and last-minute booking in future articles.
That's it – curious readers can read on for my experiment numbers.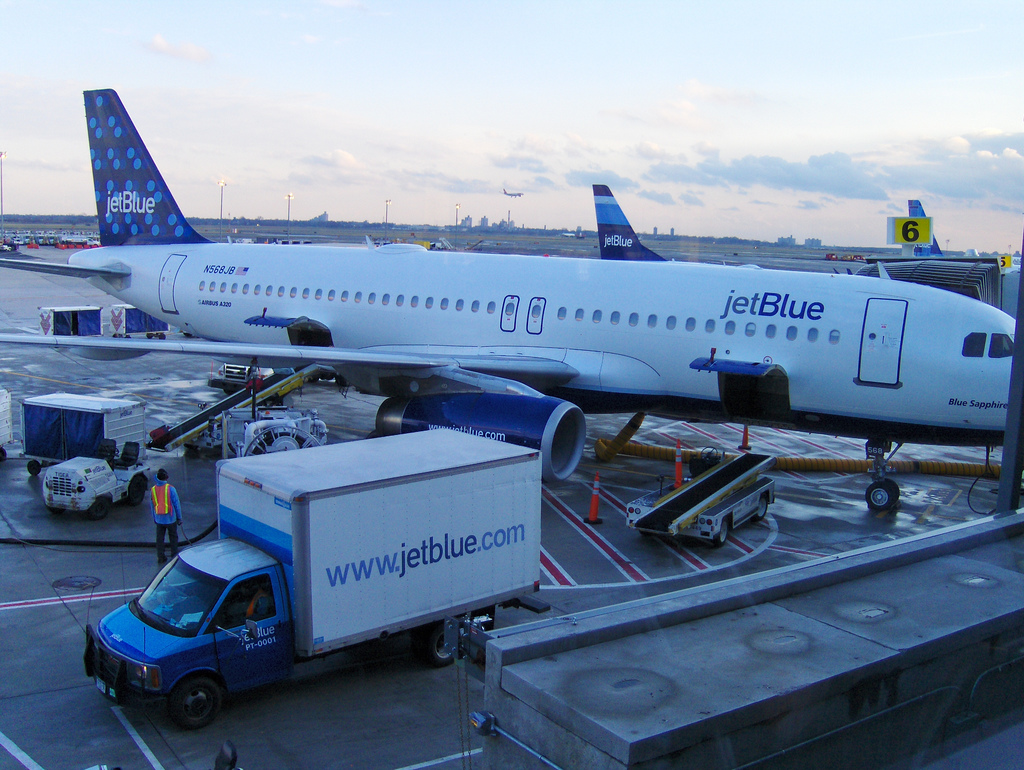 Photo by Joe Shlabotnik
Started with a hypothetical fare to SEA, from NYC , August 1 – 6. On Expedia, it's $556.70 each way on United, from Newark. Including the bag fee that's $1163.40.
Ran my experiment between SEA and SFO, and found the cheapest fare of all to SFO July 4-8 on United, total $834 including bags. Cheapest Seattle fare was $1024 from July 29 – Aug 3.
On Jet Blue, SFO July 4-9 is a total of $1067.20, including bags. For Virgin America it's $1017.40. To Seattle Jul 29-Aug 3, Jet Blue clocked in at $1125.40, Virgin at $1143.20, with stopovers.
Results? If you're willing to take United, my method can beat the control by $329.40, with about 10 minutes of effort. If you needed to go to Seattle, you could travel Jet Blue and still beat out the control by more than $100, and if you were flexible about locations, you could take Virgin America and still save $146 over United.
Of course, these aren't apples-to-apples comparisons, but the spirit of the issues is travel in style for cheaper by employing flexible dates and destinations. Remember, this isn't business travel. Stay loose and save money and hassle.