339 Barnstable Rd, Hyannis, MA 02601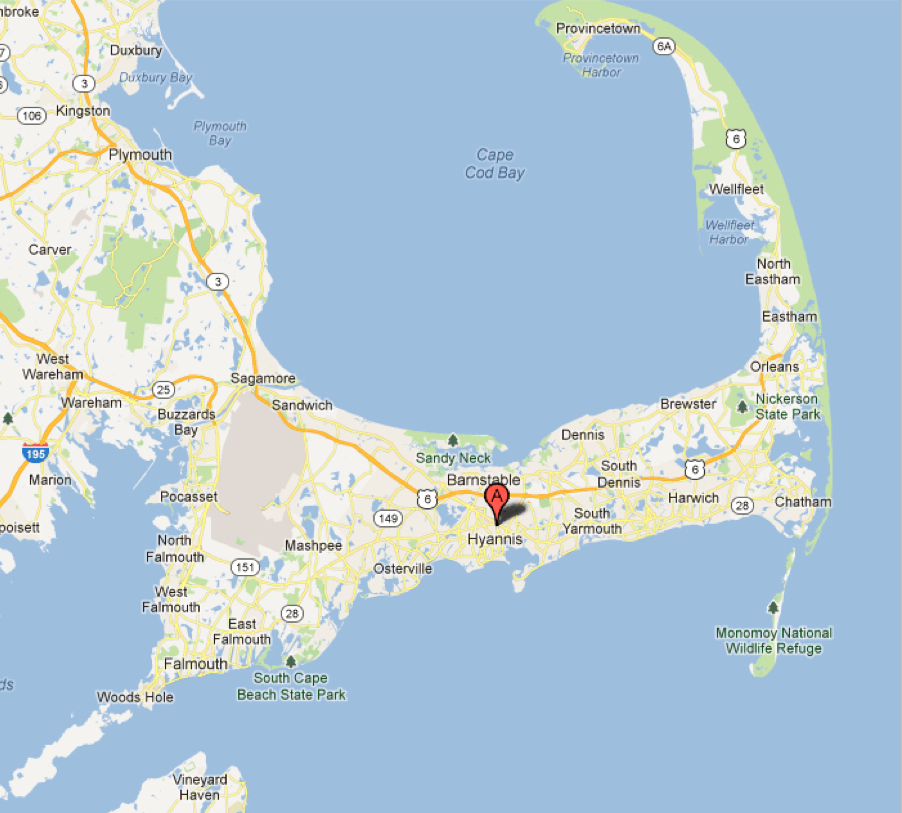 Ok, I know what you're thinking-
"This is Cape Cod! I want to hear about Big Jim's Deep Fried Lobsters and Moonshine, and you're telling me about Thai Food?!
Two Words: Hell Yes.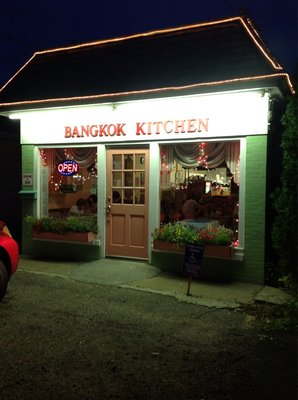 Also, get fresh on your own blog.
Anyway, this is not Brooklyn Thai food. This is a universe away from it.
Asian food is everybody's take-out go-to in a pinch, and after the adventure we had driving in (more about that in the "getting there" category) we needed something fast and easy to grab on our way to our vacay house.
Enter Bangkok Kitchen, quite literally a hut just 50 feet from the end of an active runway at Barnstable Airport, where it's tough to get a seat, and the takeout apparatus is…spontaneous…so your best option is ordering in-person, waiting 20 minutes, and taking out.
What makes Bangkok unique? Two bellwethers of authenticity – variety and originality of the menu and flavor balance. Most crappy Thai joints use sugar and salt to coax flavor out of their dishes, and the result is mediocrity and monotony. A skilled chef employs a delicate balance of several flavor dimensions, including the not-for-the-amateur fish sauce. In the hands of a good chef, it's a miracle ingredient.
Anyway, to the grub-we ordered four dishes that represent a good cross section of the menu:
-Pad Kee Mo noodles. Subtle flavors and fresh basil were the first impressions, though red pepper flakes add some kick. Well-prepared this should be juicy and flavorful but not heavy or oily. These delivered.
-Basil beef salad. Cilantro and citrus are two oft-ignored ingredients in mediocredom. Sripraphai in Queens does it better than anyone, but this was close.
-Green Curry-a "standard", along with pad Thai, at many spots but also a good dish to judge the chef's competence. This was light, savory, and slightly, but not cloyingly, sweet.
-Chicken or Seafood with bssil and eggplant. Probably my favorite. Just look.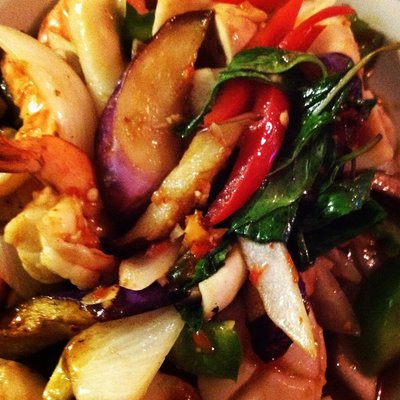 As is the case with most good restaurants and not so much with bad ones, each dish had its own unique character. We washed ours down back at our rental house with a bottle of 2008 Poggio Il Castellare, courtesy of my sister, cause that's how we roll.
Bangkok kitchen is located pretty much center cape, nearby (obviously) the airport, and Hyannis/Barnstable hotels and shopping centers.