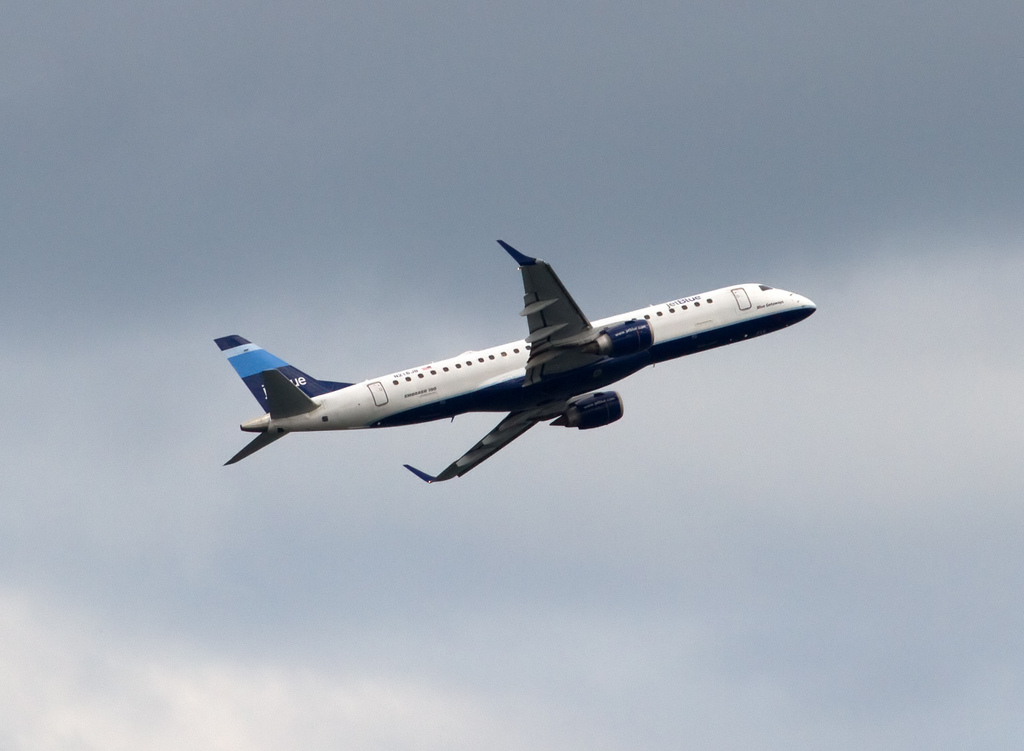 Photo by Tony Hisgett
Disclosure – we have no affiliation with any of the businesses we discuss in this article.
The fact that Ithaca is just long enough a drive to make it an undertaking also makes it an oft-overlooked weekend getaway destination, especially as throngs of weekenders head for the beach. (Or the Cape.) As we wrote in our articles about Cape Cod, time-savings is almost as important as money savings, so our travel suggestions are designed to maximize one or the other – driving maximizes money savings at the expense of time, while flying maximizes time savings at the expense of money. But we understand everyone's situation is different. Maybe you don't have a car. Maybe you prefer the train or the bus. That's why we examine multiple options.
Below, the most popular ways to reach Ithaca, in order from most to least recommended.
Driving
Driving from NYC to Ithaca is fairly straightforward, and probably the best option if you own a car. In midday traffic, it will take you about four hours from lower Manhattan, via the Holland Tunnel, I-80, and I-81, and most of the drive is beautiful. From most parts of Brooklyn, the Hugh L. Carey Tunnel (formerly the Battery Tunnel) will take you right to lower Manhattan for a toll of $5.33 with an EZ-pass (which you probably have if you're an NYC resident and car owner) or $7.50 cash. (From Bay Ridge and Sunset Park, the Verazano Narrows Bridge is a better option.)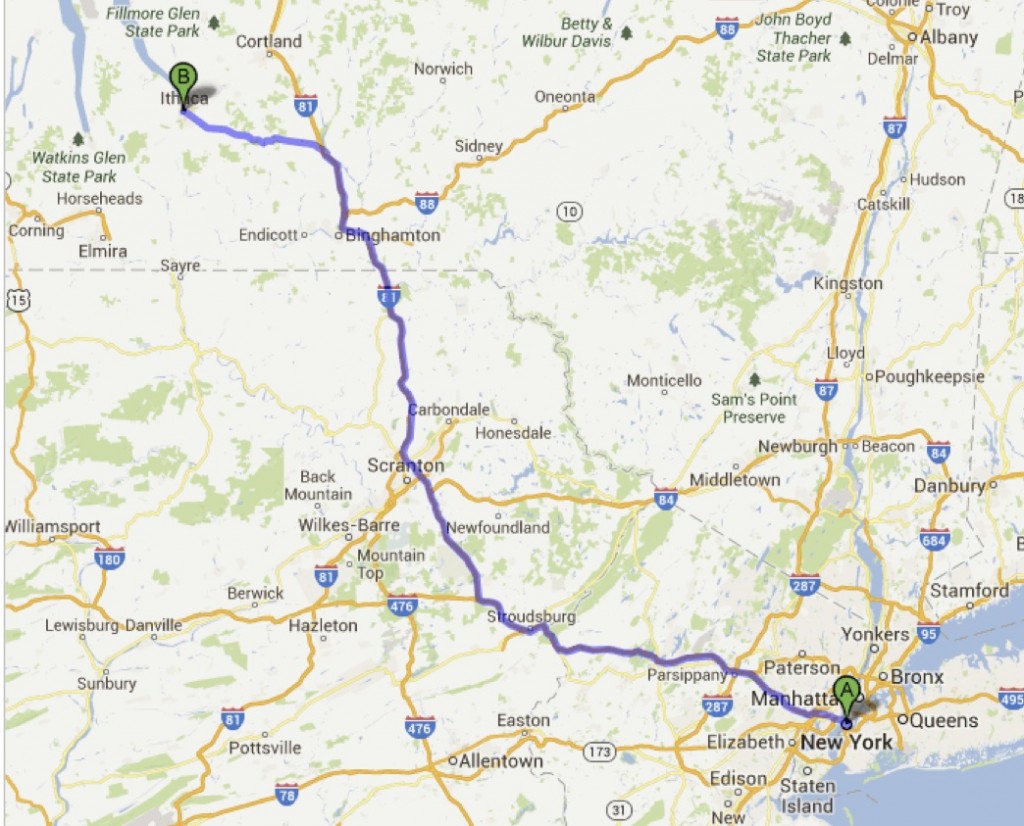 Air
Air travel is the best option if you're decided on renting a car. Direct flights into Ithaca regional airport are ridiculously expensive, but you can fly into nearby Syracuse for a song. Only one issue – bus service between the two absolutely sucks. You'll spend 2.5 hours, pay more than you should have to, and end up transferring in Binghamton. But if you're renting a car anyway for mobility within Ithaca, air is your best option.
JetBlue doesn't serve Ithaca, but it does serve nearby Syracuse, with 4 daily flights. A sample one-way fare booked two weeks in advance is $97. (Yes, you'll probably have to take the red-eye to get this fare.) Total flight duration from door-closed to door-open is around 1 hour. The drive from Syracuse is also around an hour. Hertz.com offers rental cars from just over $45-a-day if you pay at the time of booking, and as we've written elsewhere, car rental is the one thing we recommend arranging directly with the agency, rather than through a third party.
It's difficult to compare apples-to-apples with other travel options, particularly because of the opportunity cost of not renting a car (the cost of public transportation varies depending on the activity, to say nothing of the hassle factor), but $97 for a flight compared to average $70 and  possible $100+ for the bus, it's a no-brainer.
Bus
Shortline, by Coach USA, offers between 7 and 12 daily busses from NYC's Port Authority bus terminal to Multiple stops in Ithaca. Travel time is around 5 hours, and fares range from $53 – $107 as of the time of this writing.
The hack?
Several travel forums suggested that it's possible to get an extremely cheap fare by riding the Megabus from NYC to Binghamton, then transferring to the Shortline  for the trip to Ithaca. (It's actually all Shortline, since Shortline code-shares with Megabus to Binghamton, but you'll purportedly save by booking through Megabus.) We checked this out, and the Megabus leg will run you $49, clocking in at 3 hours 35 minutes, while the Shortline leg will cost $12.50 according to several forums (Shortline itself does not publish that fare), and take about an hour 15. (The forum price should be regarded with suspicion, since it's two years old.) This is a hypothetical total of $61.50, which appears to be a better bet than the direct Shortline service.
Bottom line
Taking the bus will cost you $53 at a minimum – probably more like $70-75 – and average around 5 hours of travel time.
Train
Unfortunately, since 1961, there has been no rail service directly to Ithaca. (Source) The Amtrak does indeed serve the neighboring city of Syracuse, but as we mentioned above there is no reliable bus service between Syracuse and Ithaca, so any rail journey will involve renting a car. Fares on Amtrak to Syracuse are between $80 and $104 one-way, and travel time is five hours and change. Because of the expense, time involved, and hassle, we've decided train is not a viable travel option to Ithaca from NYC.