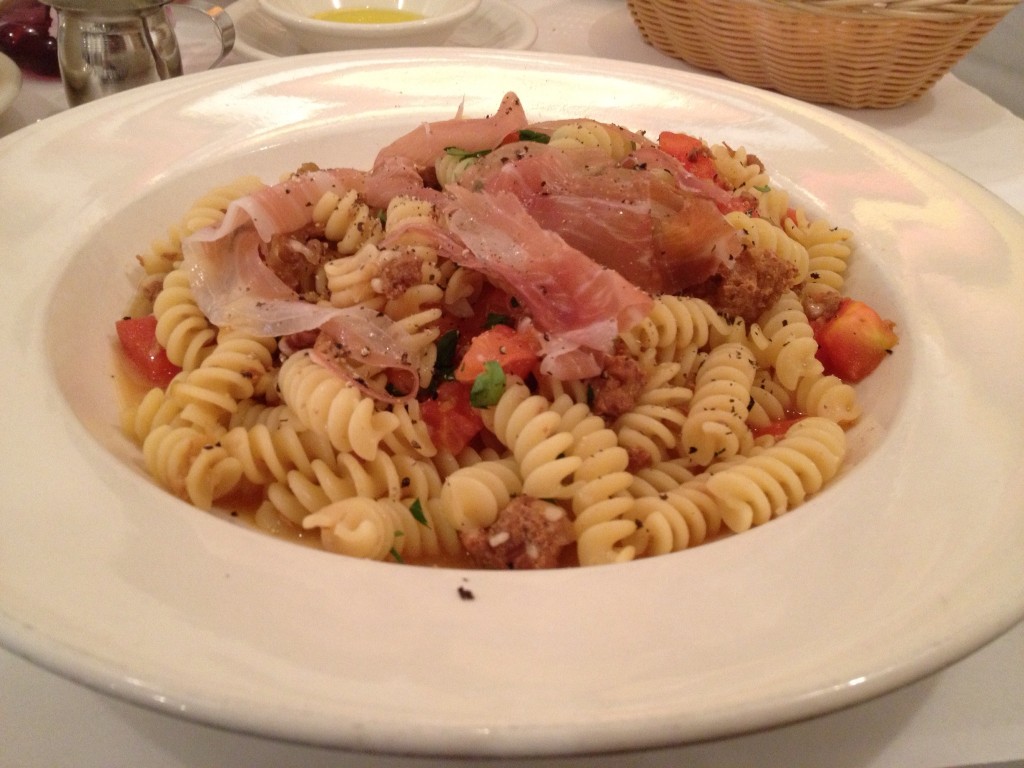 37 W 17th St
(between Avenue Of The Americas & 5th Ave)
New York, NY 10011
Basta Pasta is far from a traditional Italian Restaurant. NYC has those in spades, to be sure, but Basta Pasta is neither old-school-family-run nor new-cuisine Italian. It's actually Japanese, founded in 1985 and inspired by the open-kitchen design of the original Iron Chef.
What Basta brings to the table is attention to detail and elevation of pasta to an art form. There's evidence of the Japanese sensibility in dishes like the spaghetti with flying fish roe and shiso, but the vast majority of the pasta menu is updated takes on classics – the fusilli with organic chicken ragu, pictured above, is deep and complex, but also light and aromatic. Amongst inspired creations with sea bass ragu, mushrooms, jalepenos, and several varieties of shellfish resides the "house special" fettuccini with parmasean, basil, and proscuito. Theatrically scooped from a wheel of parmasean, the dish is beauty in simplicity, and would fall flat were it not for the perfect texture of the pasta and quality of the ingredients.
None of which should discourage patrons from perusing the entree menu as well (or negating the need to choose with a pre fixe combination). Herb panko encrusted chicken breast was a crunchy, lemony symphony on the tastebuds, and the seared duck breast is luxurious.
While some may overlook Basta for its perceived lack of bonafides, the joke is on them. You'll enjoy mind-altering Italian food at more-reasonable-than-you'd expect prices.