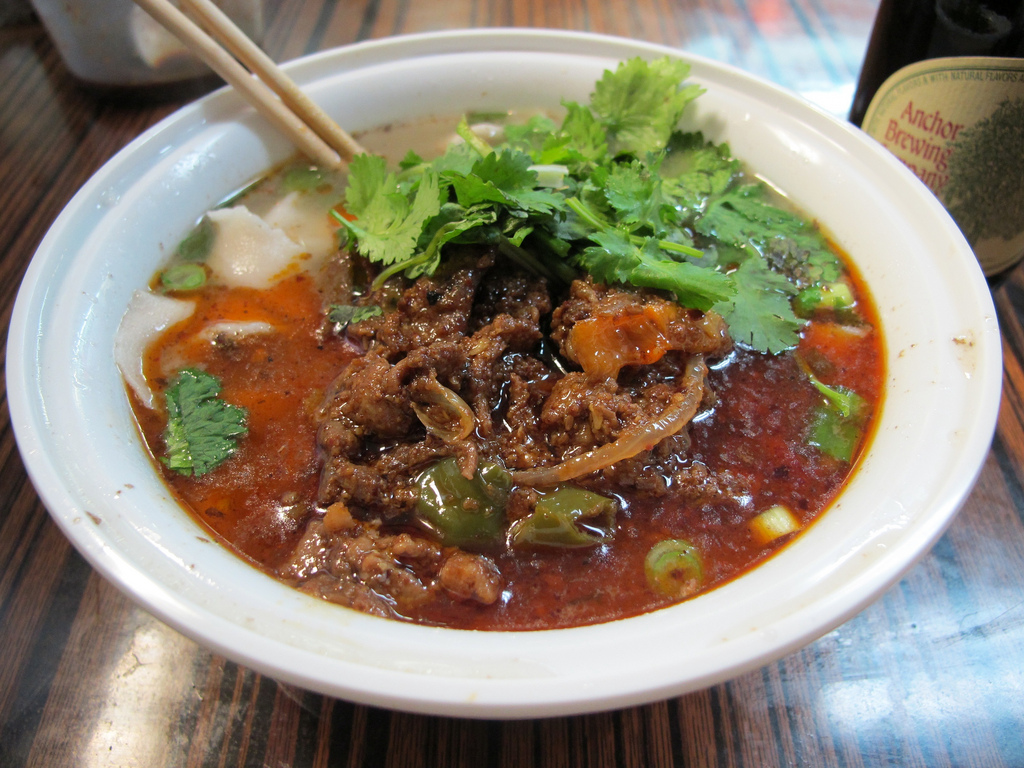 Photo by Gary Stevens
81 St Marks Pl  New York, NY 10003
Xi An Famous Foods, named for the city in western China, had humble beginnings in two basement food courts in Flushing.
No more.
The Famous Foods are taking the City by storm, with locations in Midtown Manhattan, the East Village, Williamsburg, and a new flagship restaurant, Biang, in Flushing. Guest appearances on the Travel Channel have spelled doom for many a New York restaurant, but Xi An shows no sign of letting it go to their heads. The menus are simple, authentic, and uncompromising. Seating, in all but the flagship store, is catch-as-catch-can, after you order and receive your dishes from the counter.
The standard-bearer, in my opinion, is the curry lamb noodles. Noodles, by the way, are handmade, and "hand-ripped" into broad sheaths from big sheets of dough. If that spells deliciousness to you, you're not alone, and the noodles taste better than they look. You'll be surprised by the complexity and subtlety when you take a bite – delicately marinated lamb intermingles with a cocktail of oils, diced fresh onions, and pepper flakes. This is not your dad's Chinese food. (Unless your dad is from Xi An.)
Noodles come in many varieties, including oxtail, chicken, pork "zha jiang", and several cold varieties perfect for summer weather. One of the overlooked standouts on the menu is the disruptive and delicious Tiger Vegetables Salad, which barrages you with immodest doses of vinegar, salt, and spice, none-of-which is more than a match for the sharpness of the vegetables themselves.
Oh – and don't leave without a spicy cumin lamb burger. You can even take it to go, as I frequently do. Just resist the urge to put it in your pocket. For too long.
The location I visit most frequently is the East Village restaurant, pictured below. For other locations I refer you to the website.