I was all set to publish a review lauding the virtues of the mainline agencies like Hertz, Avis, and Entreprise, and lamenting that their primary competition, Zipcar, hasn't yet delivered on its promise to a sufficient degree to be taken seriously – then reality intervened.
SEATAC, this week, Hertz counter –
Agent: The car I have for you is a Chevy Aveo.
Me: Cool.
And those words sealed my fate for the next day-and-a-half.
The Chevy Aveo, it should be noted, is not even remotely "cool." It's actually the worst car ever. The Pinto and the Corvair had panache, the Yugo kitschy charm. The Aveo looks like somebody with no engineering experience tried to design a knockoff Scion to sell for $300 at a street fair. And ours had issues. No passenger airbag. A "check oil" light that wouldn't go out.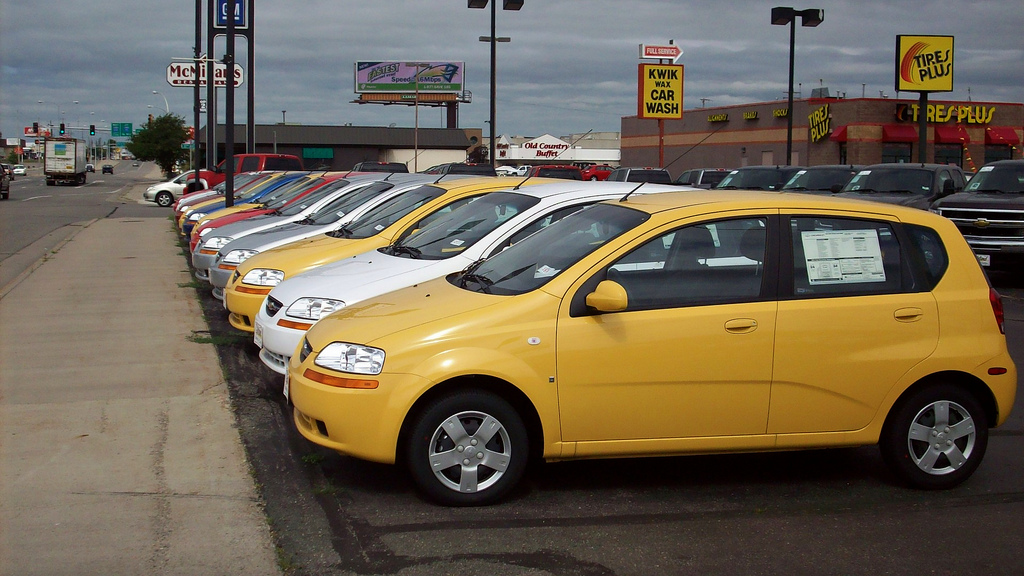 Photo by Daniel Oines
I decided to conduct an experiment. I called Hertz and asked for an exchange. "If this doesn't go well," I reasoned, "I'm jumping ship to Zipcar." Hertz had one downtown location, where selection was limited. They could possibly get me into a Ford Fiesta (a great car – an award-winning car), or another car (absurdly) in the same price class as the Chevy Aveo. If there were no other options, not to worry. They'd put me in a replacement Aveo.
The end of the story is, we ended up with a Kia Rio, and narrowly avoided having to walk. The experience was enough to warrant a rewrite, though. Below are my tips:
1. If you can find a way to go Zipcar, and it's not much more expensive, do.
Zipcar is a better company. They're more customer-service-oriented, better trained, and more efficiently run. That means no wasted costs passed on to you. If you're not a member, sign up. It's free to sign up, and you get a discount on your first rental. You can download the iPhone app, and book from anywhere. Zipcar has better cars for cheaper, and gas and insurance are included.
There's only one thing that makes zipcar slightly sticky, and even *that* is only an issue in certain cities: no airport rental facilities. You'll have to go into town to pick up a zipcar. In New York this is actually preferable, since driving into the city from JFK is a waste of gas and time. Take the Air Train to the LIRR to Atlantic ave terminal if you're staying in bkln, Air Train to E train for most of queens (then use Uber, discussed below), Air Train to LIRR to Penn Station for Manhattan (where, under most circumstances, you don't *want* a car).
2. Find out if your destination city has Uber.
If it does, use it to reach your pre-reserved Zipcar. Sign up for free at uber.com, download the iPhone app, and summon cars to your location for a pre-agreed price, billed automatically to your credit card, with the tap of a button. In San Francisco, use any combination of the BART and Uber to reach a zipcar you've reserved in advance. In Seattle, take any combination of light rail and Uber (cheaper the shorter the distance with Uber) to the zipcar location of your choice. It's hardly more inconvenient than the legacy agencies – especially if you factor money, time lost due to issues with the car, and stress, not to mention time waiting in line at the rental counter – but if the door-to-door time is minutely more with Uber and zipcar, remember that you're "voting with your dollars," by supporting two great companies.
Of course, if the place you're traveling doesn't have Uber, and/or ground transportation sucks (Cape Cod is one good example, Montana is another, and LA, because of its sheer geographic size and the scarcity of Zipcar locations, is a third), you'll have to use one of the Big Boys.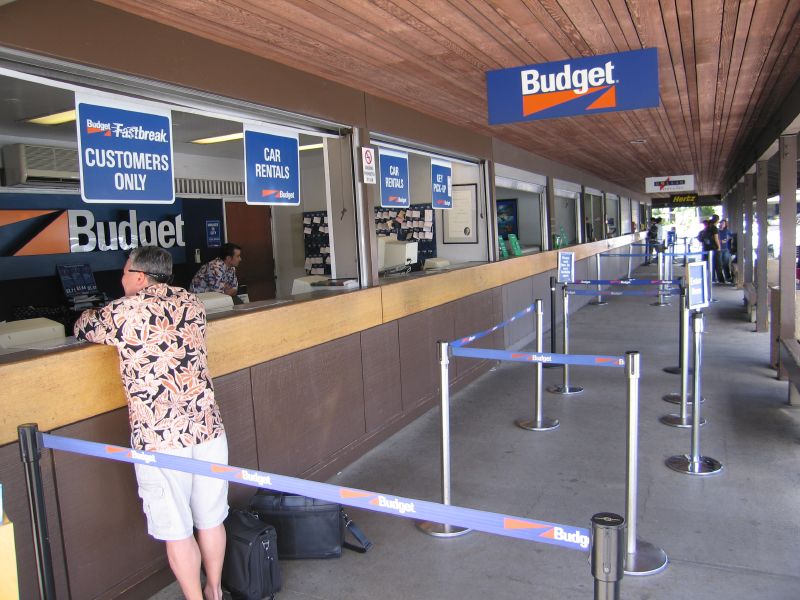 Photo by www.bluewaikiki.com
My first tip is if you're not familiar with the model of car they give you at the airport, ask if you can see it first. In many cases you can actually test-drive the cars as long as you don't leave the parking structure. If you don't like the car, ask for a switch then-and-there. Airport lots have a far greater selection than off-airport locations, so you'll never have better negotiating power than right then. If a car doesn't seem safe, tell them, and demand a different one.
Below, step-by-step, is how to save money using a mainline car rental agency:
1. Join AAA.
A basic membership is about $50-a-year. You'll get that back several fold on your very first car rental.
2. Book directly from the agencies, not through orbitz, Travelocity, or Expedia, or as part of a package deal with the airline.
(The latter can backfire if anything goes wrong with your reservation, because noone's "holding the bag", and willing/able to make a judgment call to save you.) You'll also save up to 40% by paying in advance with a credit card.
3. There are price-levels of car that agencies don't display on the front page of their sites because they want to upsell you later on.
You can use this to your advantage. On the first reservation page, choose a car one price level below your ideal – economy instead of compact, for instance. When you get to the last page, lo and behold, there's that compact car, and the "upgrade now" price is less than it would have been had you simply selected the next price range up.
Behavioral economic studies show that most people will choose the second cheapest option, so that's where companies have to do the least work for your money. Surprise them and go for the cheapest option, then upgrade in the last page, where it's less expensive.
4. After your reservation is finalized, call the agency and ask for a discount for your AAA membership.
Most rental agencies have affiliate deals with AAA, but don't offer the discounted rate on the web as part of advance reservations. They do, however, offer it over the phone.
One ten-minute call to Hertz saved me $140 on a recent reservation.
5. It may be worthwhile to sign up for the agency's Gold program, which is often free.
Advantage? You can usually reserve the exact car you want, a tip I learned the hard way in Seattle.
One question I know you're asking:
Should I spring for insurance?
First, it bears repeating that this is a non-issue with zipcar, with whom insurance is included. If you must book from a legacy agency, however, read on:
I actually found an excellent article on the subject here. I'll paraphrase below-
-If you have car insurance for your own vehicle, it probably covers rental cars. Call them to find out. If so, it may not be worth the money to get insurance from the agency. (There are shades of gray, like whether your personal carrier rates will go up if you submit a claim…)
-As a second line of defense, many credit card companies offer insurance of their own. Call your credit provider to make sure, and to better understand the "fine print."
In the end it boils down to peace-of-mind. Rates rental agencies charge for this can be exorbitant, so it's worthwhile to assess your alternatives before walking up to the counter.