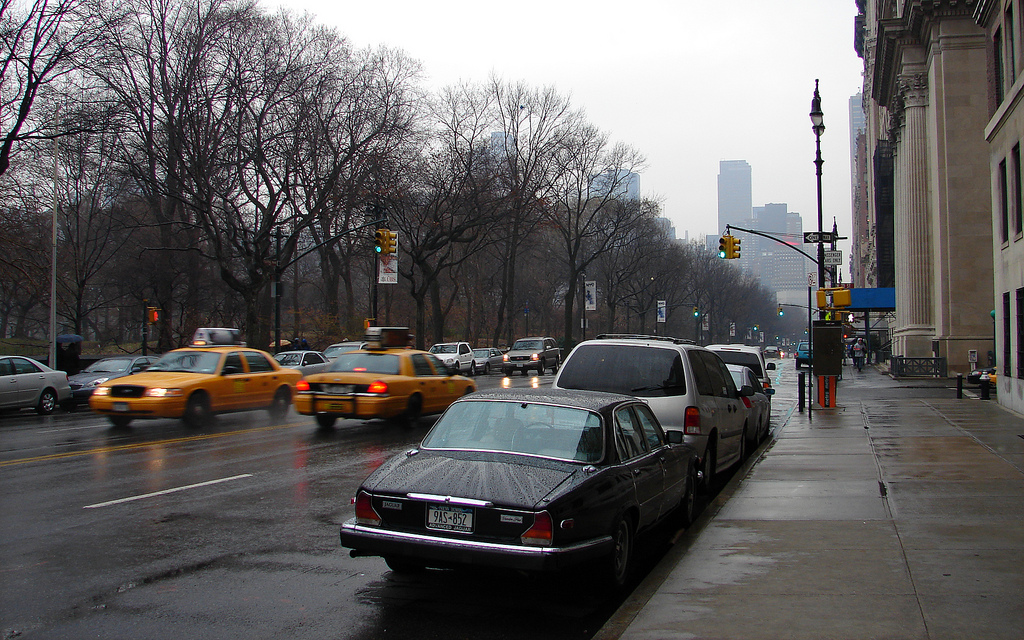 Photo by Diego Torres Silvestre
If you've ever tried to hail a cab in the rain, negotiated one price with a driver and ended up paying a different one when you arrived, or schlepped your luggage up or down the subway stairs because you thought it would be impossible to get a cab, get ready to rest easy. Uber has come to the rescue.
As they say of New York, if you can make it work here, it will probably work everywhere else, and if Uber was able to single-handedly solve our third-world cab situation, it can probably get you home from the bar. The outer boroughs of NYC were, until recently, a cab wasteland. Yellow cabs rarely go there and are reluctant to pick you up there, because the minutiae of cab company territories often forbids them from doing so. Historically, that meant you were left with livery cabs, which are unpredictable and expensive, and totally at the driver's mercy if he decides it's too much trouble to take you where you're going. I've had experiences where the driver wanted $20 to take me three-quarters-of-a-mile, because he knew I was in a hurry, and one memorable occasion where the drive charged people $20-a-head to take them from a USCIS immigration headquarters to the LIRR – even though he knew it was illegal – because it was the only option. Stay classy.
Point being, New York was ripe for something like Uber, the west-coast startup that allows users to book cars online then request them via GPS with the click of a button on their smart phone. Discovering it was now available here, we jumped at the chance to review it. (The jury's still out on the recently-implemented "slime green" outer boroughs cabs. We're also aware of a rival company called Hail-O, which purports to offer the same convenience with yellow cabs, and will review it soon.)
The genius of Uber is it engineers away all of the inconvenient things about car services:
Not knowing the price
Uber allows you to enter your location and destination and request a quote from any of their four price ranges – cab, Uber x, which includes midsized hybrids, black car, and SUV – before committing to the trip.
Not knowing until you hit the street with your bags whether you'll be able to find a cab, or needing to reserve a car hours in advance, and keep your reservation even if your plans change, you're running early/late/etc.
With Uber, most cars don't take more than 10 minutes to reach you, so you can book at the last minute. Once you select your car type, Uber displays all the cars nearby you on the map. Once you finalize the reservation, a window with the driver's name and photo will open, and a countdown timer showing the approximate wait time appears.
Don't pull the trigger until you're ready to step out the door. Our driver arrived surprisingly fast every time we've used Uber.
Needing to worry if you have enough cash, rummaging in your pockets for cash or a credit card, dealing with the annoying touch screen machine in yellow cabs, the anxiety of whether the driver has change in "gypsy" (livery) cabs.
I tend to feel that some human interaction and messiness is good – it keeps us on our toes as social creatures – and that engineering away the need for any haggling, small talk, or other street wisdom, as seems to be the trend in Japan (where you can order and pay for your ramen from a touch screen without needing to say a word to the waiter) throws out the good with the bad. That said, über handles the money, so you can talk to your driver about the view instead. When you sign up for an account, you provide a credit card number, just as you would with iTunes or Netflix, and über automatically bills your card at the end of the ride, tip included. They email you a receipt when your ride is complete. Ours fell on the low end of the spectrum provided us by the estimate.
I'd recommend über for any situation where you're carrying luggage, are far enough away from a subway entrance to make it inconvenient, and either live outside the downtown area of your city or don't want to bother schlepping your bags to the nearest corner to hail a cab.
We've used uber three times to go from our apartment to the Atlantic ave terminal or back (most recently after a trip abroad during the a snowstorm that closed all the access roads to JKF), and once to go from our apartment directly to JFK. In every case car arrived in less than ten minutes, a brand new Camry hybrid, and our driver was extremely professional and courteous.
We arrived in plenty of time, and skipped the usual digging in the pocket for funds.
Highly recommend.