It's easy to appreciate one of America's great companies and the real-life sci-fi movie set its factory contains if you're a nerd like me. I'm going to go out on a limb, though, and argue the Future of Flight tour at Boeing's Everett, WA factory has far broader appeal. True, it's part science fiction, as if you stepped into the hangar bay where the Milenium Falcon was assembled (though, if Luke Skywalker is to be believed, quality control is somewhat better at Boeing), but it's also part art installation – with a surrealist sense of scale and spectacle that will remind you more of the Tate Modern or the Storm King Art Center than of your high school physics class.
And there's a third level on which the Future of Flight (hereafter the "FOF") tour speaks to me – as a jaded traveler. I climb aboard these great machines all the time, barely aware I'm riding a triumph of human ingenuity, more focused on whether my seat-mate is hogging the arm rest or whether the wifi works. As Louis CK suggests, perhaps we've become too used to these great behemoths of the sky, these aluminum steeds that carry us majestically into the clouds. Whatever your reason, you'll find something to dig on this tour.
Photography is prohibited on the tour itself, and I can understand why – no, it's not for "trade secrets" (otherwise why do they let in anyone who pays?). They want the full weight of the experience the first moment you step off the cargo elevator onto an observation balcony in the world's largest building and gaze upon a family of 747s being handmade, like Galleys in a shipyard of another century, to hit you full-force. They want the contrast between our everyday experience of flying and the miracle of the assembly of these man-made birds to be as potent as possible. I think the rule is unnecessary, though. It's not like we haven't seen photos and videos of the inside of the factory before, in practically every promo ad and news report. If photography did the real thing justice, there would be no reason to visit the Grand Canyon or the Great Wall.
There's no preparing for your first in-person view.
Anyway, I'll leave the superlatives to you, after you experience it yourself. A bit of nitty-gritty about the tour, though.
-Tours leave from the visitor center, at 8414 Paine Field Blvd, Mukilteo, WA. Tickets are $18 each, including tax, when you buy online at futureofflight.org .
-DO NOT pay for a tour at your hotel. If you've taken our advice and rented a car, you can save 75% of the money and hassle just by driving there yourself.
-Be sure to eat a meal no more than an hour before the tour leaves if you're like me and get hungry frequently, because there's no food or drink allowed on the tour. (Something about the employees down below not liking potato chips or – worse – water bottles falling on them, or some such…) Don't wait until you're at the visitor center to eat, because the snack bar sucks. Also, make all your calls beforehand, because you're required to stash your cell phone in a locker before the tour leaves.
After a fifteen minute (hilarious, corporate rah rah) video introduction, you leave the auditorium and board buses that take you around the end of the airstrip, and to the factory on the other side. The tour is actually only two stops – one at the 747 assembly plant, and the other at the other end of the building, where you'll see 777s and 787s in their final stages of construction.
Our tour guide, an airline pilot himself (he wasn't clear about "current" or "former" but from his age we guessed "current") enhanced everything with his narration. As we wound our way past rows of parked 787s, ready to deliver to customers and already painted in their livery, he took us through everything from the history of the world's largest building to the complications involved in rolling a completed aircraft out of the factory and over to the paint hangar (employees are required to move their cars, because the parking lot doubles as a taxiway, and security guards with forklifts stand-by to remove the autos of any forgetful ones).
The tour concluded with a heartfelt dissertation on how everyone at the company – from riveter, to systems engineer, to cafeteria-mashed-potato-scooper – was important. Sure, it was cliche corporate claptrap, but you got the sense that the tour guide sincerely believed it, and I, for one, was touched. We did a lot of things on this trip, from a Puget Sound ferry/road trip to the Underground Tour, and both agreed that no single experience could quite top the FOF tour.
To cap things off, while I waited on the "grassy knoll" overlooking the airstrip for Chih-Yu to join me, I watched a 777, still paintless – probably piloted by a test pilot – swoop in at impossibly low speed, hover just a few hundred yards in front of us for what seemed like an eternity, then alight nimbly on its rear wheels, like a gull, before slipping out of view.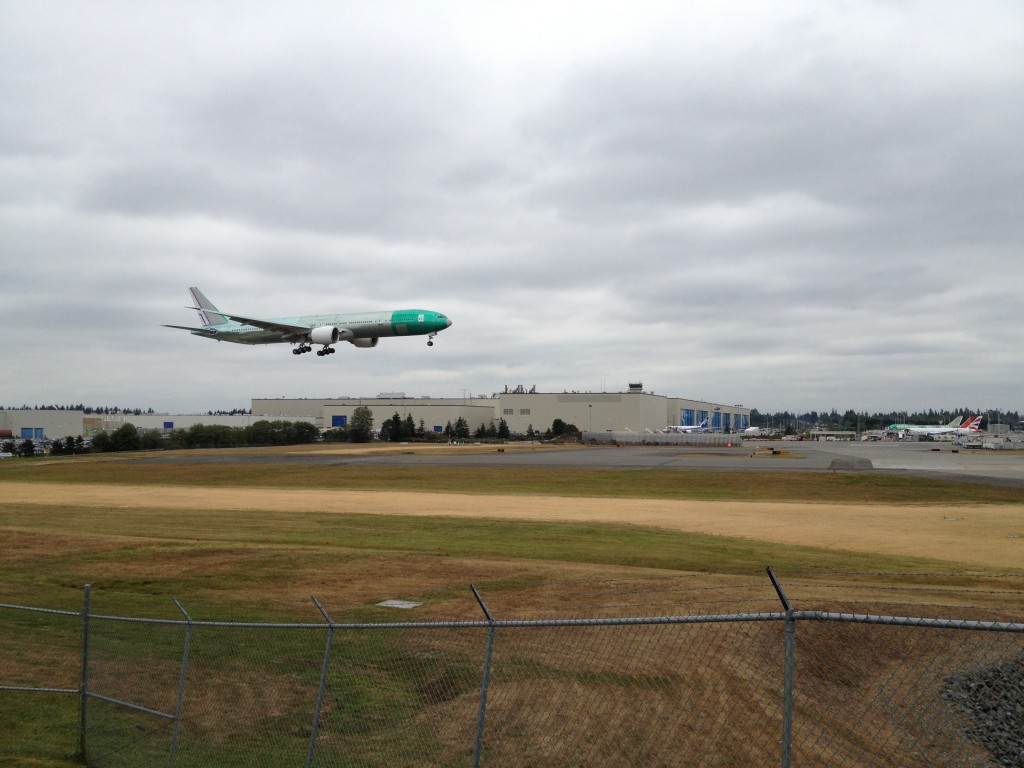 Minor postscript – I'm not unaware of Boeing's role in America's growing militarism, whether it be drones or joint-strike fighters, and like many of you I have an ambivalent relationship with it. But we need to be honest about the reality of the companies with which we co-habit this planet. Ikea plays a role in deforestation, Apple and Tesla's components arguably require sourcing from some of the globe's worst people. My awe at the assembly of commercial aircraft should not be seen as an admonishment to ignore the other hats the company has worn. Still, I believe it's possible to appreciate the beauty and engineering triumph of Boeing's machines without forgetting the company's role in war-making.