Everything they've told you is true.
There's nothing like Paseo in New York. The flavors are unlike Banh Mi, unlike anything at DeFonte's, subtlely different from anything I'd experienced before. Let's get this out of the way right up front – an expert on Cuban food I am not. I've had great Cuban cooking at Pilar in Clinton Hill, and a few other places, but I'm not the guy to tell you whether it's as good as "I remember it".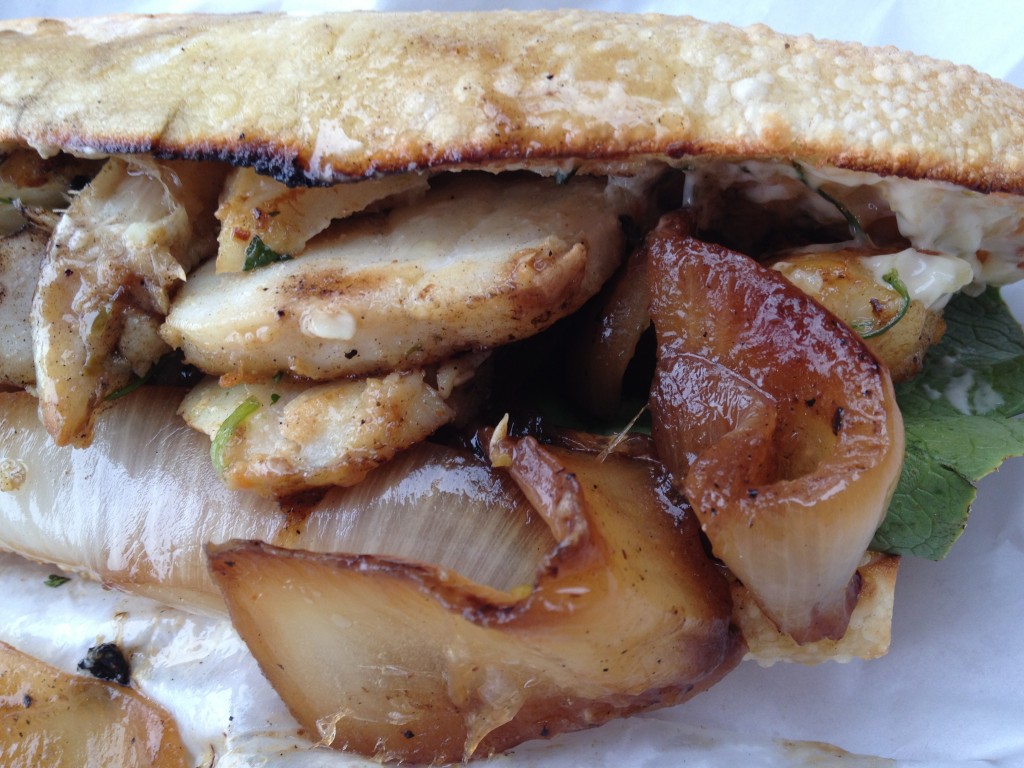 Anyway, for the uninitiated, the bread in Paseo's sandwiches has both a denseness and an sponginess that's very different from your traditional baguette. The textures are intense – it takes commitment to bite through, and as soon as your teeth have penetrated the crust, big carmelized onions envelop savory pockets of meatiness that explode on your tongue, and the flavors – smokiness, sweetness, salt, spice – have both balance and impact, a hallmark of good cooking. There's a reason experienced diners lucky enough to score a table often use a plate – "sandwich" is sort of a term-of-art, loosely employed to describe what's essentially a roast, barely contained by two slices of bread.
No, I take that back. It's literally a roast.
The roast pork shoulder is the most popular item on the menu. I opted for the Smokin Thighs, "2 Marinated, skin-on, boneless chicken thighs; flash grilled & oven roasted". And by roasted, they mean basted with a glaze, seasoned with spices and pepper. I'm used to chicken sandwiches that taste like chicken-flavored hockey pucks. I'm not used to braised drumsticks giving slightly under my bite, then giving way, releasing juiciness into my mouth, the skin still crispy, the tingle of pepper and spices lingering on my lips.
The cod sandwich was equally delicious – robust and smokey but flaky and buttery – a great countertexture to the firmness of the bread.
And they say Paseo's delicious. But that's not all they say.
They also talk about the wait. Which is substantial. It's deceptive, because the line may only stretch half-a-block (we attended the Freemont location on Freemont Ave), and you may get into the shop in only 20 minutes. Prepare, though, because from order to pickup is another 30. Tables, as I mentioned above, are catch-as-catch can, but if you stake them out you'll likely nab one when its incumbent finishes his or her meal. (It's not like you don't have time to wait.)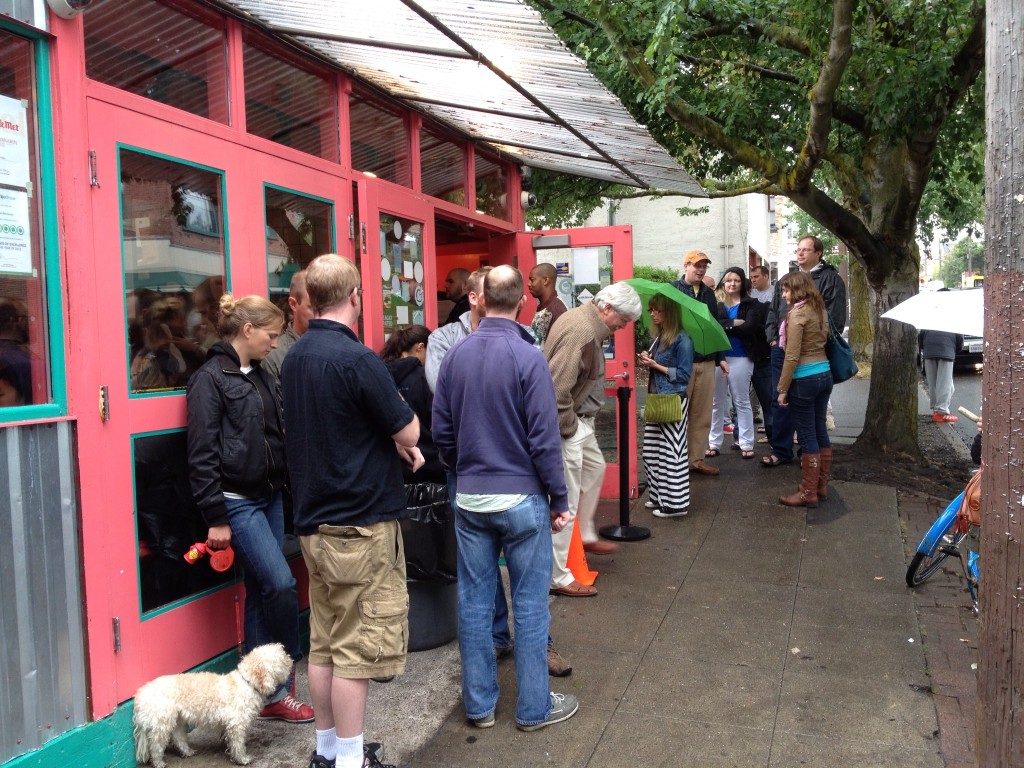 There are hacks, to be sure. Calling ahead is supposed to reduce wait time, though we continuously got a "busy" signal, so it may amount to negligible time-savings.
Even if you wait, Paseo is worth it. Just come hungry. Really.