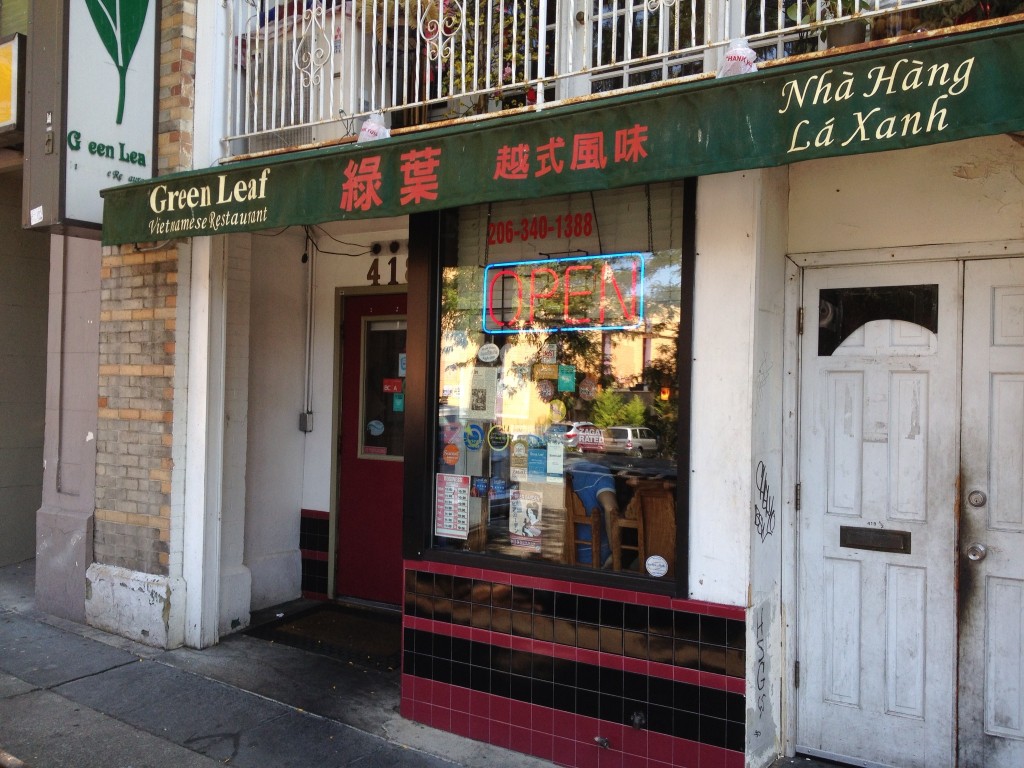 418 8th Ave S Seattle, WA
Like many good Asian restaurants in the US, the Green Leaf presents exceptional food in unassuming surroundings.
Located on the south-eastern corner of Seattle's "China Town" – really an international district including restaurants, shops, grocery stores, boutiques, and even museums representing Chinese, Taiwanese, Cantonese, Vietnamese, Japanese, and Filipino traditions side-by-side – Green Leaf keeps it simple, serving up traditional Vietnamese favorites.
Not to be brazen, but if it's my first time in a city renowned for its Asian food, I'm going straight for the pho – the fabled Vietnamese rice-noodle soup with beef and a little bit-of-everything. We ordered it with "the works" – the most common assortment of rare and well-done beef, beef meat balls, and tripe.
Of course, it was delightful. Citrusy, light. I learned something else – next time, I'm going straight for the rare beef and the tripe. You can customize.
For a totally contrasting experience, we also ordered a salad made with shredded chicken, caramelized onion, cabbage, and fish sauce. (On the menu it's called Goi Ga, "Chicken boneless salad with mixed greens and cabbage.") The complexity the chefs are able to coax out of such simple ingredients was all we needed to know. Green Leaf is worth its stars. (Yelp, not Michelin.)
It didn't hurt that the bill for pho, chicken salad, spring summer rolls (an ingenious deconstruction of deep fried dough, rice noodles, and usual ingredients wrapped in the thin rice paper of a summer roll), and iced coffee came to less than that of two sandwiches at the airport. Which is why we love Asian food. Green Leaf is slightly underrated at an even four stars, but the experience also confirmed our suspicions that New York's Nha Trang One is even more highly underrated.
Highly recommended. Also worth strolling through the neighborhood afterward and checking out a museum or a Japanese grocery store.