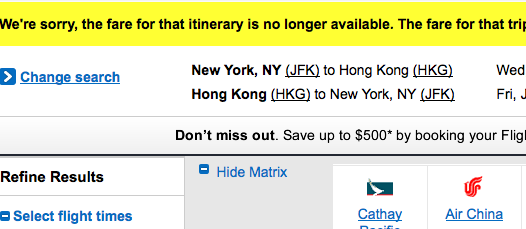 If the above looks familiar, you've fallen victim to one of the most annoying little-known idiosyncrasies of online flight booking. After weeks of searching, watching the trend lines, monitoring the fare alerts, and comparing airlines and itineraries, you're finally ready to buy, so you click "select" on your choice-of-flight, you click through to the site offering the fare, and you get this message: "the fare for that itinerary is no longer available."
What you're experiencing is fare-lag. Mike Cordelli, of Flyer Talk Forums, explains why:
[Third party ticket sites] don't go out and get real time inventory when they return results. They may return a fare that is no longer available but was at one point. It would take too long if they went and actually confirmed each fare they were showing was actually available. So they show you what they think may be available or was at one point available, but only confirm that when you click through. Sometimes, that low fare is no longer available, so they can't get it for you.
This explains why fares sometimes "vanish" while you're sorting out the details like seat requests, and even why some "too good to be true" flights may be up for a few hours before travel sites refresh, but not the type of slop we're seeing recently. The above fare was advertised on Orbitz for weeks, and is still up on the site as of this writing, even though multiple inquiries have confirmed it no longer exists.
In at least two other articles, I've lauded the virtues of Kayak, my favorite travel-site-aggregator. Kayak, unlike primary sites like Expedia, pulls results from multiple travel sites, so it saves you visiting them one-by-one. I still believe Kayak to be one of the most valuable tools at a smart-traveler's disposal. Unfortunately, since it pulls results from other sites, it scoops up bad with good. If you're trusting the front page completely to run your searches and fare alerts, and one of Kayak's feeder sites is feeding it bad information, the results will be skewed.
Kayak could mitigate the potential harm by including a site-filter. You can already filter which airlines it displays, which times-of-day, and even how many stopovers in the itineraries. By including the ability to filter certain repeat-offender sites from search results and – better still – fare alerts, Kayak could set a high bar for the industry. (I'm going to tweet this at them, so we'll see how much clout a fledgling, single-author travel blog carries;)
Until then, you'll have to practice a higher degree of scrutiny than usual looking over search results. Here are two handy rules-of-thumb-
1. Look at the "spread"
When you're looking at the "search results" page after running a fare search in Kayak, each itinerary has results from multiple feeder sites listed below it in blue.

Those results include the price listed on the airline's proprietary site, as well as results from the major travel sites, including Kayak's own third-party ticket-sales site. When the "spread" amongst the fares is "tight", as above, it's a good indication that the fare is legitimate. This is a useful method to scan an entire page of results without clicking into each one. When the spread is "wide", as below, it's time to be suspicious.

In this screenshot, you can see that Orbitz and Cheaptickets are showing one price, and Kayak and the airline itself are showing something very different. In these instances, especially if it's a fare you're watching, you're going to have to click-through.
2. Click Through
Luckily the sites allow you to "select" a fare long before you have to buy it. When you're doing your fare watching, and you've identified a fare that looks good, click "select" and follow the prompt to the primary site (in the above case, either Orbitz or Cheaptickets). Once on the primary site, click "select" again. If you get through to passenger info and seat selection, there's a good chance the fare is legitimate. If you get a message like that at the top of the article, you know it's probably a "faux" fare.
At least until the Kayak "cleans house", looking at the spread and clicking through will have to serve as a workaround to prevent wasting time waiting on a vestigial fare.
Good luck, and happy hunting.