In part one of this series, I floated the controversial idea that perhaps Atlantic City warranted inclusion in a list of six smart weekend getaways from New York, both because of its well-earned reputation as well-worn tourist-trap and in spite of it. Come for the amazing Asian food, wineries, beaches, and…dare I say it…shopping, and stay for (and in) the dirt-cheap hotel rooms priced to attract gambling addicts. Oh, and catch Earth Wind and Fire, if you're into those guys.
Anyway, we did the back-street Malaysian joint, we did the boardwalk. Now it's time to head inland to Bellview Winery (no, that's not a typo – it's not Belle like "pretty" in French, it's Bell like "liberty Bell") for two things that you don't usually find in the same place – classic cars and wine-and-cheese tasting.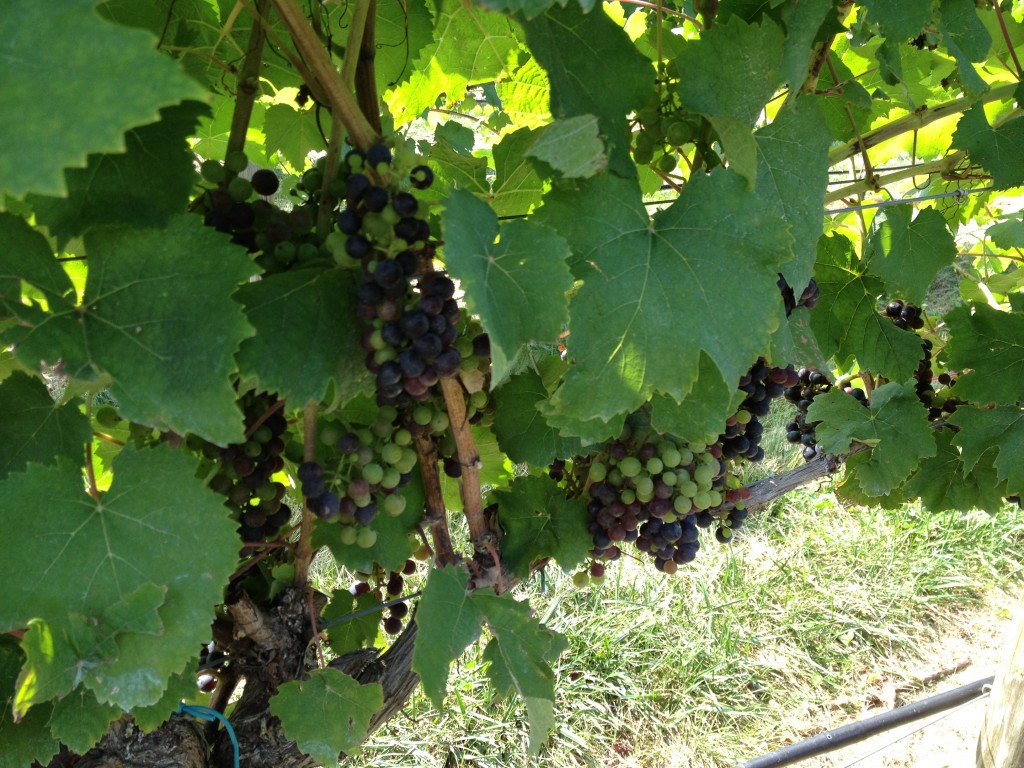 150 Atlantic St  Landisville, NJ 08326
On most days, Bellview has most everything you'd expect from a winery. Well-appointed tasting room, deep menu with at least 20 varietals, tasting flights for $5, and table service, all within the staid atmosphere that says "we're not into shenanigans." It's legit, in other words.
Small coincidence, then, that on the day we visited, they were hosting a multi-acre classic car show. All the tastings had been moved outdoors under tents, where $10 got us in the door, and we joined a small crowd huddling under the shade of the bar tent to escape the late-afternoon heat of a high-80s summer day. Trying to make our "sips" last (I'll get there), we gazed around the property, which was covered pretty much end-to-end with tents, some inhabited by vendors selling kettle corn or other snack items noticeably more "crunchy granola" than those on the boardwalk, others just covering long banquet tables. Patrons sat both at tables and on the grass, "picnicking" with freshly-purchased, dewy bottles of chilled wine. At the center of the whole shindig was a small stage stacked with "hockey tourney"-style trophies, presumably because, in the spirit of inclusion, they would find a prize for every car.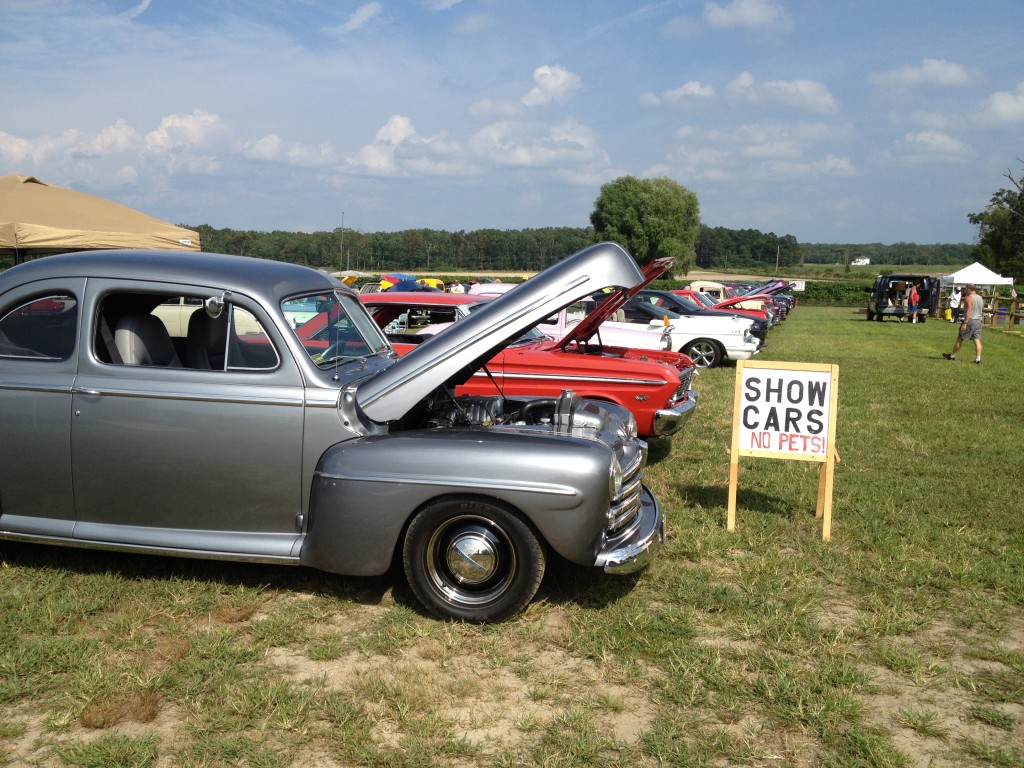 It would have been nice to stay in the shade of the bar tent, drinking small glasses of wine, then wandered over to check out the cars. It was not in the cards on this day, however. Our bartender was taking the meaning of "tasting" a little too literally, pouring eye-dropper-sized tastes into our glasses then waiting for our next request. I glanced over to my right, where a male bartender closer to our age was keeping the glasses of two female "tasters" three-quarters full. No matter – on particular oak-aged white varietal was delicious, so we bought glasses and walked with them into the tasting room, where we would have been on a normal day. There we were able to try a smorgasbord of local cheeses, and found two particularly excellent ones. We settled in at one of the tables to finish our glasses.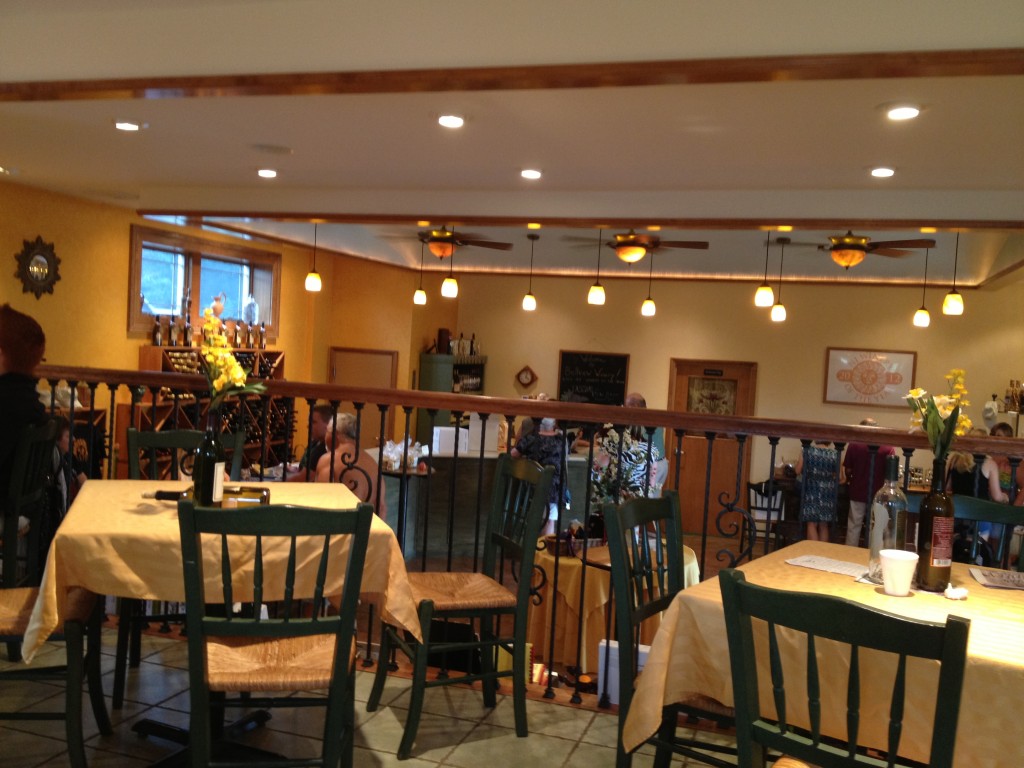 I give the Bellview a B+ for the experience on the day we visited. The deserve props for outside-the-box thinking, and the wine and cheese were bonafide. The small negative, if I would even call it that, was the "stinginess" of one specific bartender. Had the $10 admission covered a free glass, this party could've been bangin. Either way, visitors to Bellview on a normal day can expect tours, and cheap tastings in the indoor space.
Little Saigon Restaurant
2801 Arctic Ave
Atlantic City, NJ 08401
When we first hatched the idea to go to Atlantic City, it was because of Little Saigon. A Vietnamese restaurant so exceptional it was getting writeups in major media.
"What if we went to Atlantic City just for Vietnamese food?"
"I'm in. When do we leave?"
You see, I'll travel quite-a-ways for good pho. I've had purportedly good pho – at Nha Trang in New York and the Green Leaf in Seattle – but this is the dish Tony Bourdain describes as his "death row meal." Have I felt ready for the chaplain, blindfold, and cigarette after any bowl of plenty-good pho I've had so far? Admittedly not. But people are willing to die for this stuff. What am I missing?
At Little Saigon, I got an inkling, and for that reason I'm willing to say it alone is worth a trip.
(Ok – but why would you do that? Just take our advice, come for the pho, stay at the Borgatta or some-such, and make a weekend out of it.)
Anyway – pho.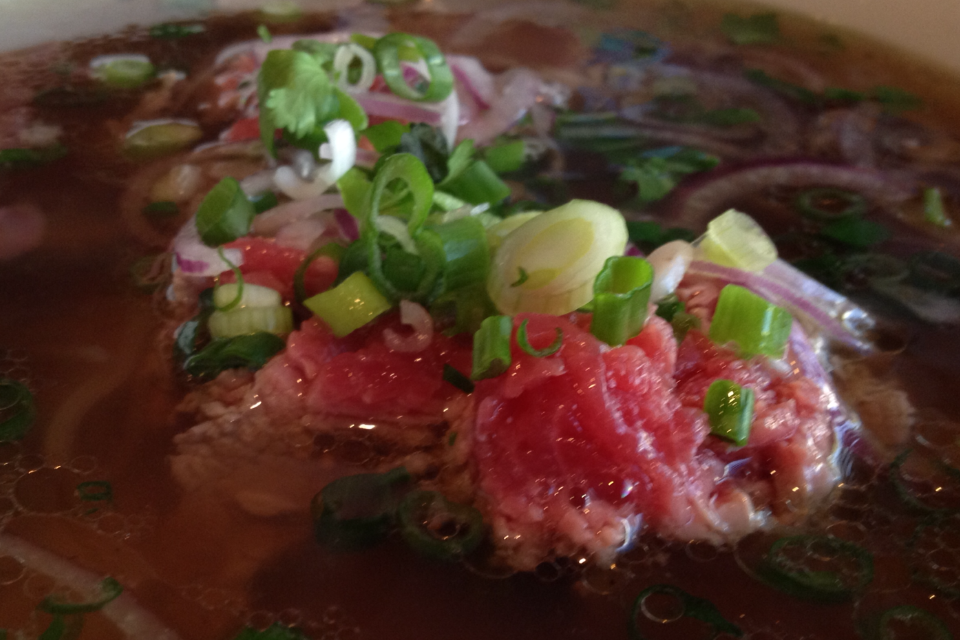 No, that's not a carefully-lit stock photo. This pho-porn is real.
Let's back up though. Little Saigon sits on the ironically-named Arctic Avenue, just two blocks behind the Tropicana. Atlantic Avenue, AC's "main drag" beside the boardwalk, and home to the storied Smith's Sub Shop that we didn't get to review but which gives us an excuse for a return trip, and a row of inviting-looking dive bars, is just a block away. The neighborhood is modest in a charming way, like Key West or Redhook. For its environs, Little Saigon is surprisingly upscale.
"You sure you don't want the number 22?" the waiter asks, after we're seated. "It has the works."
"Dude do you really need to ask?"
I get the 22, which, in addition to the languid, voluptuous mounds of shaved raw beef, also has cooked beef and tripe. (I learned in Seattle that for me beef meatballs are a waste of money.) Chih-Yu gets another authentic street favorite: the "bun" dry rice noodles with grilled pork and segmented spring roll, so we can share and compare.
The chefs at Little Saigon let the pho broth, half of which still sits in my fridge, absorb a lot of drippings from the beef, which gives it a weighty umami (no I'm not a fan of that word but sometimes it's the perfect word), offset by the customary acidity of citrus. As an American, I like things meaty, and I'm willing to give up 100% transparency – prized in parts of Asia – for some drippins, and this broth is perfect. The beef quality is surprisingly high – like wa gyu – leading me to wonder if this is a "gourmeted-up" version of street food. No matter. It's an eye-clencher. If this pho isn't the one, it's in a dead-heat with Seattle.
Chih-Yu's bun is also delightful. It seems like a simple dish, but to get everything just right – the flavor of the broth, the texture of the noodles, the marinade and charring of the meat, the crispiness of the spring rolls, the freshness of the greens – is art.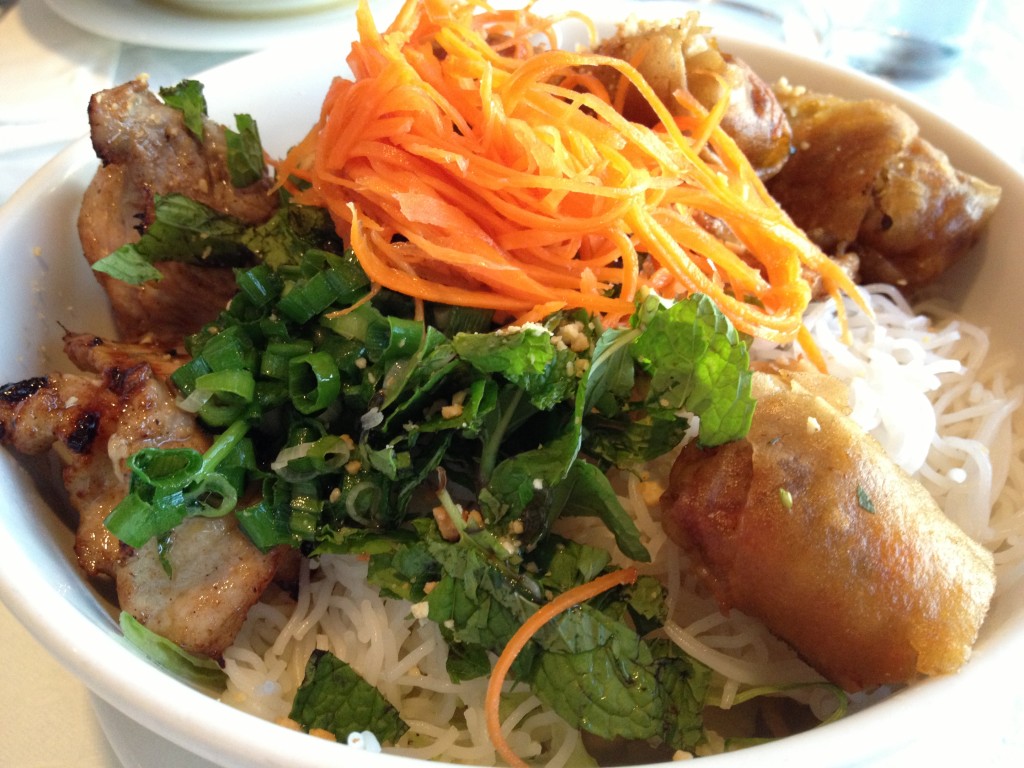 If the upside to a travel site that distinguishes itself by its depth and authenticity is that we've personally sampled everything we recommend in these pages, the downside is we can't do everything in one trip. On this quickie to Atlantic City we didn't experience nightlife, shopping, or gambling. But maybe that's the point – we didn't need to. Instead of treating AC as a cheap package-deal where the kids can play in the pool at the trump while daddy doubles down in the casino, try thinking of it as an extension of New York's outer boroughs. An illegitimate child of Coney Island and Flushing, where you can go deeper than you thought. And if, after you've "crossed the tracks" to some undiscovered bits of the city, you still want Texas Hold'em and single-malt, you can do that too.