The first time I tried Baohaus I'd never heard of Eddie Huang. Not that my new-found affinity for its owner would affect my objectivity even if I had. Gua bao and I have actually had an on-again-off-again long-term relationship, and I've sampled some of the best in Taiwan.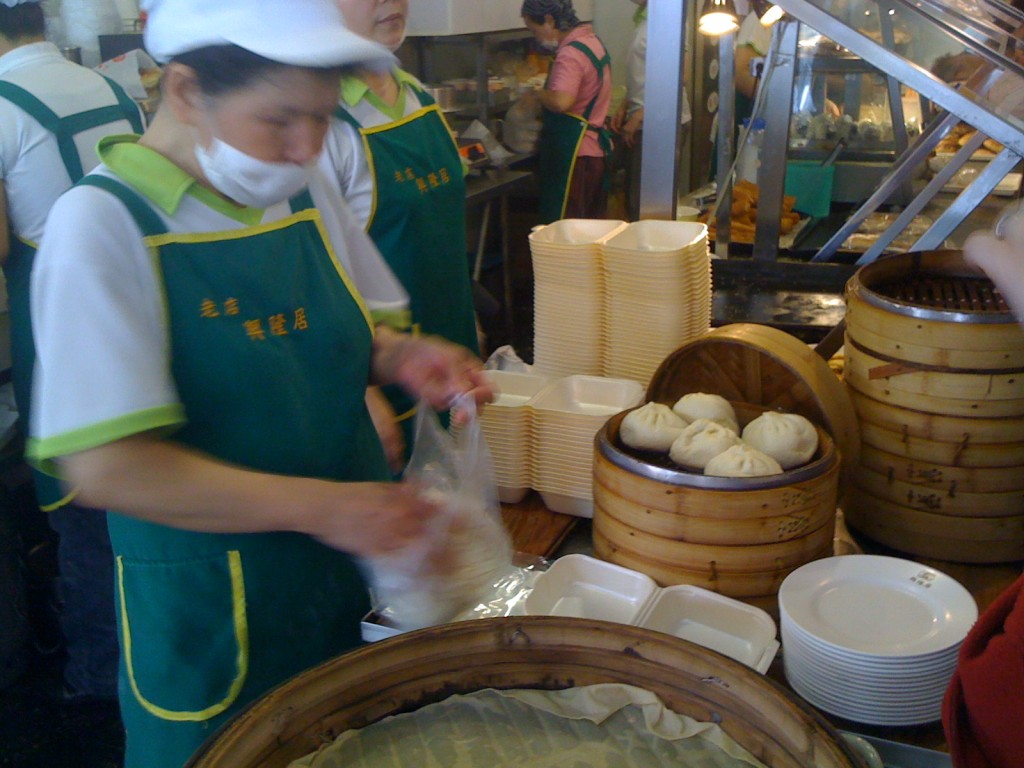 In case you were fiending for personal details about your friendly author, I'm a Crossfit practitioner with a freakishly high metabolism, and my wife has gamely indulged my need to eat almost constantly for years. In Taiwan, the solution was simple: Xing Long Ju (興隆居), across the street from City Hall in Kaohsuing, boasts the city's most famous breakfast fare – egg crepes, soy milk, and the like – but it also sells gua bao. Portable, delectable, perfect. Rectangular cross sections of pork belly (with more fat than I'd recommend eating on a regular basis), parsley, pickled cabbage, and a dusting of roasted peanuts, all within a glutinous dough bun that's half tortilla, half marshmallow (in texture only – not sweetness), wrapped in a Zip Lock sandwich bag, for about $2. Grab 3 or 4, toss them in a drawstring bag with a bottle of water, and you're good for an afternoon.
Like Eddie, I never considered gua bao to be any quintessential representation of Taiwanese cuisine – they were like culinary B-sides. Dashed off without much fretting, but all-the-better for it. Eddie, I now know, arrived at the idea of the gua bao bun after perfecting a recipe for Red Cooked skirt steak, but wagering customers wouldn't abide a bowl of rice. (Luckily he softened his position on the issue – the dish, now with pork, is back on the menu.) So Baohaus, like the bao itself more a means-to-an-end (the "end" in this case being a chill neighborhood place to hang) than a masterpiece, was born.
I wouldn't pen a favorable review of Baohaus (as if one would affect its fortunes either way) just because its owner is one of my heroes, but it would have made me a bit nervous to try it had I not already done so, on a winter day a few years ago, wandering around the lower east side looking for something to eat. At the time I paid not much more than I did in Taiwan for a bao with grass fed beef, and thought it was one of the more delicious things I could remember eating. As such I was reasonably confident that my return to Baohaus, now in its new location on East 14th between 2nd and 3rd aves, would live up to expectations.
What struck me both times was the disarming atmosphere of the restaurant. Part hot-wings joint, part caddyshack, part friend's kitchen. You order at the counter, then take a seat at one of the narrow counters or the big central table. My friends and I opted to squeeze into the table, next to a dude working on a laptop who we later discovered was Eddie's web designer. It's dimly lit and cozy. There's graffiti on the walls. Oh yea, and Eddie's show is playing in a continuous loop on a flat screen at the back of the room.
This time I rocked the Charman Bao (pictured on the right), with "braised All Natural Berkshire Pork Belly…crushed peanut, cilantro, 'Haus Relish', and Taiwanese red sugar," and the Birdhouse Bao (on the left), with brined and deep friend chicken reminiscent of night market friend chicken and Taiwan's ubiquitous Pork Chop Rice, to round out my last experience with the beef. At my friend's urging we also sampled the taro chips, seasoned like sweet potato fries. Of course, it was all delicious. (Oh, and the most expensive item, the Charman Bao, was $4.)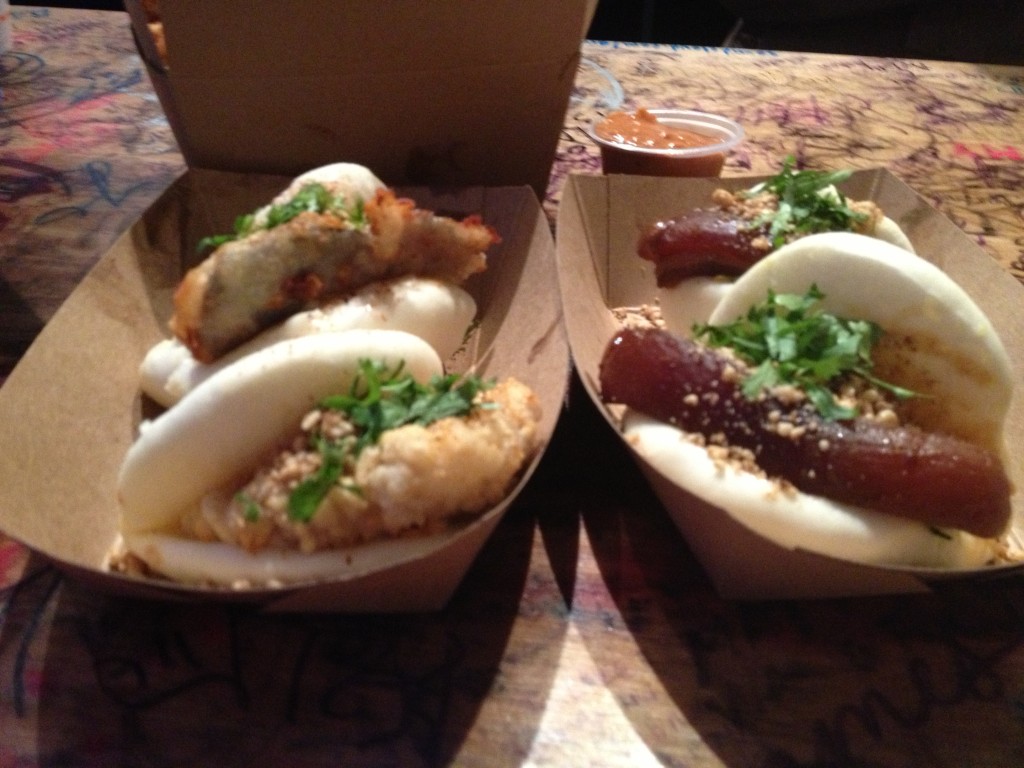 But the food was a bit inconsequential – like the "lure" for the more important feature: the hang. What Baohaus has succeeded in doing is carving out a spot on one of the busiest streets in lower Manhattan that feels removed from the usual "lunch culture" or hurry-up-and-eat. Here, you want to take your time.
On the way out I was joking with two of the employees, and asked if anyone today had yet dared to wear one of the ridiculous "Fresh Off The Boat" lunch-lady hats displayed on the counter, and got the impression I was the first. Onto my noggin it went, and the guys flashed me a look like, dude we work here and even we don't wear those stupid hats. That's okay. I'll rep Baohaus on the streets. Somebody's gotta do it.