Seattle is a city-of-many faces. If you're a fan of Twin Peaks or The Killing, you've seen Puget Sound's mysterious side. Brooding skies. Gray/aquamarine color palette. "Restrained" sunlight and incessant, misty rain. But shift your focus, for a moment, to a man named Bill Gates, and you'll picture tech companies and startups with rumpus rooms, fooseball tables, and beanbag chairs, smart-people-with money, and acres of tech-financed new-construction. Oh, but it's also the birthplace of Pearl Jam and Starbucks, and if that calls-to-mind a certain rough-around-the-edges, punk/hipster sensibility, you're not wrong either. And if you're a student of history, you've probably heard some of the misadventures of Seattle's first 100 years, when it was a hard-knocks, Wild West wonderland.
In none of those cases would you be wrong. There's a reason the creators of The Killing chose Seattle as the backdrop for the American remake of that Danish series. Through a certain lens it looks very Scandinavian. If you're from New York, like we are, the first thing you notice is the rash of new construction. Every building is new. (Or practically every one – spots like Ballard and downtown still have some of the original brick buildings from the city's early years.) The light is indeed…um…."muted" – there was only one unequivocally sunny day the entire week we were there – but not in a dark or foreboding way. It's a landscape painter's dream – lush, deep greens against the purples of the two mountain ranges, and the white of the snowcapped peaks. A glance out our hotel room the first morning and we got it.
Seattle was a great vacation destination for this east-coaster because it's so opposite everything I take for-granted in a city. Laid-back. (Yes, I said it.) Polite. Abundant. Step off the plane, feel your heart rate ratchet down a couple of ticks, feel the cortisol leave your circulatory system, take a deep breath, and get ready to go deep.
We tried a wide menu of tours and mini-excursions, all of which is published under this category, all-of-which we recommend, and none of which is necessary if you're either on a tight budget or just want to "right brain" it. (In fact one of the best adventures happened when we just decided to step off the grid and "wing it".) They'll all enhance the experience, though.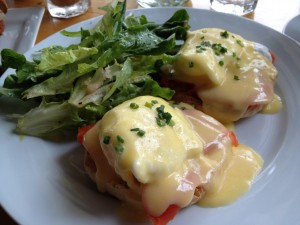 This is almost without-fail our favorite category to pen for every destination. Restaurants queue up for slots in our 2-3 "squares-a-day" (with the occasional post-tour binge or late-night-post-drinking snack), and slotting in even a fraction of the candidates becomes a challenge. Seattle surprised us, too. We found great eats in unexpected places.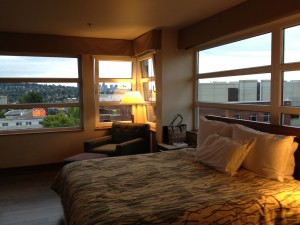 It's true, we only stayed at one hotel (which, as you'll see, we recommend highly). But here we give you some insights into our search process, discuss the better and worse neighborhoods to stay in (hint – downtown is more expensive than spots only 10-minutes-away) recommend a few all-stars, and tell you what to look-out for.
Yes, we did do a thorough dissection of SEATAC, but on this trip we experimented with a number of travel hacks, and even found one of our long-held assumptions tested, and wrote about the lesson we learned. For practical advice and sheer entertainment value, you'll want to read on.