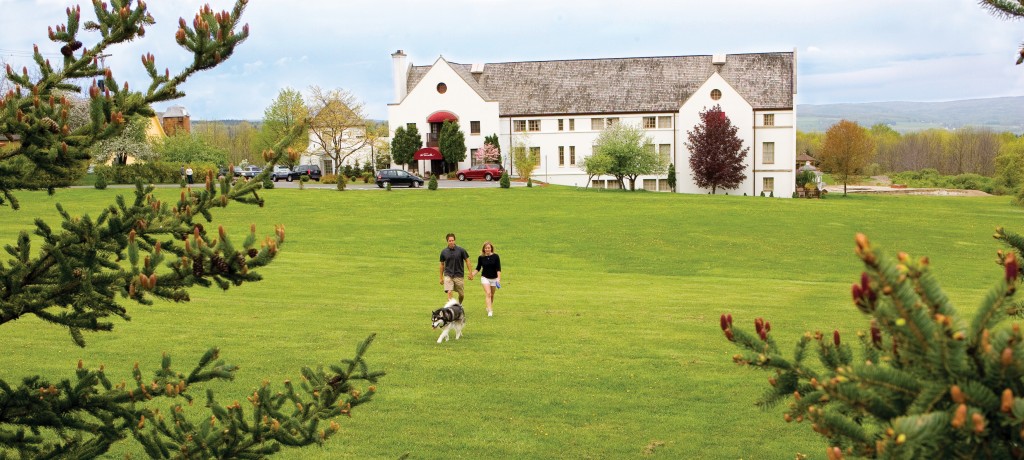 Photo used with permission, courtsey of Everything Spa
Accommodations in Ithaca fall into two categories – B&Bs, for which you'll pay between $165 and $325 per night, and traditional hotels, which range from the familiar chains both high and low end, to some more unique options.
In our efforts to supply value that a reader can't get simply by using Yelp or Trip Advisor, we decided to do a meta-comparison of all of Ithaca's major hotels worth mentioning (we didn't bother with anything obviously low-rated), and rank them in several parameters important to us ("pet friendly", for instance). The "distance from downtown" metric is a little arbitrary, since Ithaca has three gravitational centers – downtown and the two college campuses – everything is reasonably close-by everything else, and some of the more "far-flung" hotels boast spectacular views (like the one above).
| Hotel Name | Address | Type | Yelp Rating | Sample Rate Range | Distance to Downtown | Pet Friendly? | Comments |
| --- | --- | --- | --- | --- | --- | --- | --- |
| 1. La Tourelle | 1150 Danby Rd Ithaca, NY 14850 | Hotel with B&B-like style | 4.5 stars in 18 reviews | $154 for Room with one queen bed to $279 for Paris, Fireplace Exec. Suite | 3.4 miles, 10 minutes | Yes, but only in Certain Rooms | Reviews overwhelmingly positive. |
| 2. William Henry Miller Inn | 303 N Aurora St Ithaca, NY 14850 | B&B | 5 stars in 3 reviews. 5 stars in 126 reviews on Trip Advisor | $165-$250 depending on room type and peak/off peak rates | 0 | yes, in the Garner Suite | |
| 3. Private Hotel and Pure Food at Casper's Farm | 1040 Comfort Rd Spencer, NY 14883 | B&B | No Yelp rating, top rated in Trip Advisor | $200 – $300, depending on room. | 9.4 miles, 21 minutes | not specified, which usually means "no" | Owned by a restauranteur, eye-catching design. No Yelp reviews. |
| 4. Statler Hotel | 130 Statler Dr Ithaca, NY 14853 | Hotel | 4 stars in 12 reviews on Yelp, 4.5 on Trip Advisor | $335 – $685, depending on room | 1.6 miles, 7 minutes (Cornell campus) | no | Trip Advisor loves this one. Yelp is more mixed, pointing to drabness, lackadaisical service, and high pricetag |
| 5. Inn On Columbia | 228 Columbia St Ithaca, NY 14850 | B&B | 4 stars in 13 reviews on Yelp, 4 stars on Trip Advisor | $125 – $225 for same-day deals. Other rates not published. | 0.8 miles, 6 minutes | yes | Popular for its last-minute booking policy. Reviews overwhelmingly positive. Negative focus on multiple houses, street noise. |
| 6. Hampton Inn | 337 Elmira Rd Ithaca, NY 14850 | Hotel | 4.5 stars in 5 reviews on Yelp, 4.5 stars on Trip Advisor | $143.65 – $249, depending on demand. | 1.8 miles, 8 minutes | yes According to Expedia | This seems to be the budget hack – brand new and reasonable. Books up fast though. |
| 7. Hilton Garden Inn | 130 E Seneca St Ithaca, NY 14850 | Hotel | 4 stars in 11 reviews | $189 for king room | 0 | no | Popular for its location, generally seen to be in line with average service for the Hilton chain. |