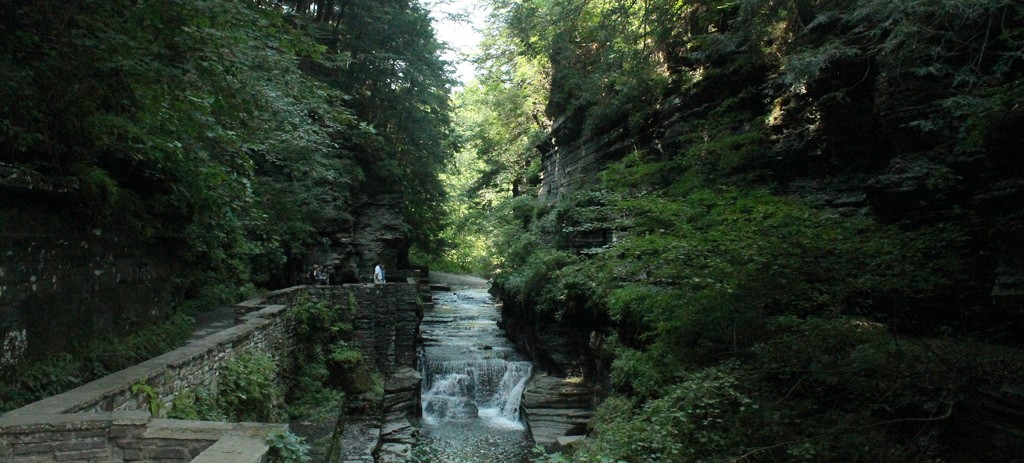 Photo by Andy Arthur
Sure, you can visit college campuses, art galleries, coffee shops, the farmer's market, or otherwise absorb the atmosphere of Ithaca's streets. But if you've come all this way, especially in warm weather, you'll want a few excursions that drive home what makes Ithaca – and the Finger Lakes Region – an ideal getaway. State Parks offer hiking and breathtaking sights just a few minutes from town, and you should definitely set aside to travel a little thing called the Wine Trail.
Below, a growing list of our favorite excursions.
Cayuga Lake Wine Trail (link to longer article)
Nestled along the western side of Cayuga Lake are a handful of wineries, in just such an assortment that one could, if one chose, "winery hop" northward from Ithaca. Be warned – this is a rabbit hole. There are at least fifteen wineries, all highly reviewed by visitors, and to attempt to describe them all in detail would require multiple visits. (Don't get us wrong – we're up for that.) For the first-time visitor to Ithaca, however, we'll attempt to provide a framework. [read more…]
Some of the most breathtaking "postcard photos" in Ithaca promotional materials were taken here, just 4.5 miles from Ithaca's city center, including Enfield Glen, pictured above, and Lucifer Falls. The park offers swimming and camping during the warm months, but we recommend you skip those in favor of the trail. The loop trail between the upper and lower ends of the park is 4.5 miles, and has some challenging geography – be prepared to walk uphill! – but nothing too challenging as long as you're in shape. Dogs are allowed on leashes 6 feet or less, and day parking rates for cars are $7.
Just ten minutes from downtown Ithaca along Elmira Road, Buttermilk Falls is favorite among locals and tourists for its views and short-but-challenging hikes. We're big fans of close-proximity-nature, and Buttermilk Falls lets you escape into a surreal world just steps away from "civilization." The Gorge Trail is the standout, connecting the lower and upper park. The trails are well-maintained, but there is some "geography", so wear comfortable shoes and be prepared for your heart to beat a little faster. Parking at Buttermilk Falls, as at all nearby state parks, is $7 per day, and household pets are allowed on a leash.